On the street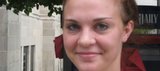 I'd say loud music and people outside - that usually does it. But it also depends on where the house is.
Back in their youth, the Beastie Boys famously rapped about fighting for their right to party.
They might have struggled less in Lawrence, where it's no trouble on most weekends to find a spilling-out-the-doors shindig where the music is loud, the people are friendly and the brew flows freely.
House parties have been a college staple since the toga-clad Bluto busted a guitar over a folk singer's head in "Animal House."
OK, maybe before that. But you get the idea.
Whether you're hosting a soiree the size of that Delta House blowout or an intimate cocktail party with a handful of your closest friends, tending to the following elements will keep your guests happy and your pad intact - not to mention your landlord off your back and your booty out of jail.
1. Music
Remember how the dance floor cleared when the DJ played an MC Hammer song at the last wedding reception you attended?
That's the power of bad music.
Spencer Holdren, a KU senior from Topeka, says good tunes are part of the "social lubrication" at a party.
If you have the connections and the space, try live music. It seems like everyone in Lawrence knows someone in a band, so just ask around. You can always charge a couple of bucks at the door to pay the musicians - or just give them free beer.
Barring that option, make sure you have a good grasp of your guests' tastes, pick out a stack of CDs or a well-equipped iPod and turn on the shuffle. The key is being flexible, Holdren says.
"If you make a playlist and people are like, 'What is this?' then put on someone else's iPod," he suggests.
2. Crowd Control
Word of mouth can turn a small affair into a rager in no time. If that's what you want, then you're all set. If not, you've got to work on crowd control.
Be clear when making invitations, even if they're just verbal. Set the number of guests that each friend is allowed to bring, and stick to your edict.
"A lot of times you kind of have to be the bad cop," Holdren says. "You want the people that you invited - and really want there - to have a good time."
3. Themes
"Animal House" crystallized the toga party as the quintessential theme for college gatherings. But asking guests to don a sheet and crown of leaves isn't the only option.
You can ditch the theme idea altogether. Outside of holiday festivities like Halloween and New Year's, it may be considered hokey by your friends.
But if they're up for it, invite them to dress in disco gear, pajamas or maybe as a famous person from U.S. history - and plan your music, decorations, and food and drink accordingly.
One year, Holdren titled his New Year's Eve soiree "It's a shame, it's a sham, it's everything glam."
"Everyone had to wear something shiny and David Bowie-esque," Holdren says.
For a more chic affair, consider a party where guests dress in cocktail finery and each brings a martini recipe for everyone to try.
4. Keg call
Depending on how many revelers you're expecting, a keg might be in order to sate their thirst for a buzz.
Jason Schmidtberger, a manager at Alvin's Wine & Spirits, 905 Iowa, advises party hosts to shop early.
"We don't reserve kegs; it's a first-come, first-served system," he says. "We just bring in a couple hundred kegs a week and sell them."
You can stock your keg with any number of beers - from domestics to micros - with prices ranging from $65 to $125 at Alvin's. (A $30 deposit gets you the keg shell, and $50 buys you a tap on loan. Return them within four days, and you get your money back).
When Jake Hartman's roommates threw parties at their apartment, they'd also buy a couple bottles of rum and vodka, and supply sodas for mixing drinks.
"Basically everything was free (for guests)," says Hartman, a Logan, Utah, senior. "But you could charge people $5 and try to make your money back."
(Do this at your own risk, however; selling alcohol without a liquor license is illegal.)
5. Cocktails
Remember: Not everyone has the stomach for beer or tequila shots. Margaritas, daiquiris or piña coladas may be more the speed of your buddies.
If you've got a lot of guests and not a lot of money, the Digital Bartender (digitalbartender.com) suggests Jungle Juice. The recipe calls for mixing 2 1/2 gallons of fruit punch with a fifth of Everclear, adding chopped fresh fruit and letting the concoction stew overnight.
You can find other cocktail recipes all over the Internet. Epicurious.com is one reliable site, which also offers a handy table in its "Drinking" section that helps party hosts plan the right amount of food and beverage for different numbers of guests.
6. Munchies
Unless you're hosting a dinner party, no one expects a buffet. Besides, most parties around here don't start hopping until well past 9 p.m.
But you won't hear any complaints if you provide something for guests to munch on. Pretzels, peanuts and popcorn are cheap, salty companions to beer.
On the other hand, you can also build an entire party around food. Spencer Holdren had a sushi-making party to celebrate several of his friends graduating.
"Some people were making sushi; some people were making miso soup," he says. "I was in charge of making sure everyone's glass of wine was always full."
7. Use protection
Chances are, your house doesn't really belong to you. And even if you do own a place, that's all the more reason not to sacrifice it to drunk, rowdy partygoers.
It's a good idea to put away or lock up anything you don't want someone to break, steal or puke on - especially when friends of friends of friends show up.
Also, consider blocking off areas where you don't want people to wander. You certainly don't want to find strange naked people in your bed or bathtub at 4 in the morning.
8. Don't break the bank
Most college students are broke. They'll understand you can't subsidize their social life.
Have a BYOB affair, where you supply a couple of cases of beer - as well as fridge and cooler space for friends to bring their own refreshments.
Want to fancify your place? String up some Christmas lights or paper lanterns. If your theme calls for something more, ask for help from your guests. You never know who might have a disco ball in their closet.
9. Keep it down
A certain amount of "woo-hooing" and bass thumping may be tolerated before 10 p.m. in the right neighborhood. But just to be sure your party doesn't attract the wrong kind of attention - the kind with sirens and handcuffs - designate a sober person to monitor noise, stifle underage drinking and discourage guests from filtering onto other people's property. Otherwise, you might find yourself running afoul of some city and state laws.
If you or your stereo make a lot of noise, you're disturbing the peace. Police can break up your party and slap you with a warning or citation. The second time they show up, it's a surefire ticket.
If two or more misdemeanors, felonies or alcohol infractions occur at your place within a year, it could be designated a disorderly house nuisance. Then you and your landlord could end up at a conference with city legal staff to figure out how you can clean up your act. Not fun.
"Being a good neighbor should be first and foremost in any resident's mind," says Lawrence police Sgt. Paul Fellers.
10. Be responsible
Stay sober. Or make sure other people stay sober so they can ensure your guests aren't drinking too much. Alcohol poisoning is bad, OK?
Have phone numbers for taxi services on hand for folks who shouldn't be driving. SafeRide will pick up KU students anywhere in Lawrence and take them home (not to another party or bar). The service operates from 10:30 p.m. to 2:30 a.m. and can be reached at 864-SAFE. Other options include:
¢ GTI, 842-TAXI
¢ Jayhawk Taxi, 843-TAXI
Don't be above taking someone's keys. If you don't know them, give them a note with your address and phone number so they can retrieve them in the morning. Or let them sleep on your front porch. It'll make for some good nostalgia when you find them there the next day.
Copyright 2018 The Lawrence Journal-World. All rights reserved. This material may not be published, broadcast, rewritten or redistributed. We strive to uphold our values for every story published.