Photo Gallery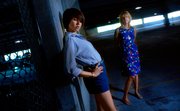 KU fashion
At a university where global diversity is celebrated, there are looks from around the world that make some KU students fashion-forward.
Emma Burgess-Olson, a sophomore studying textile design, describes her style as Harajuku wannabe with a Western flair. Harajuku is a Japanese street style that she describes as "childish and colorful."
"Fashion is fun," Burgess-Olson said. "It's nice that it is an everyday thing. I don't have to take time away to make art or have fun. I can do it at that time, a daily routine. I just like dressing up."
Her job in the costume shop at Murphy Hall helps her concentrate on her creativity.
"I don't have as much time to do sewing for myself as much as I'd like to," Burgess-Olson said. "However, I did make a dress in five hours."
East Coast transplant Tyler Anderson, a senior in film, has lived in Kansas for five years. But he said he's maintained his style as "yacht-rocking." He has pride in the fact that he is still a sailor, though it is harder to be one in Kansas, and he loves his Sperry Top-siders.
"There has been an increase in Top-sider wearing that I'm not happy about because I've been wearing them since I was 15. It kind of cramps my yacht rock," he said. "My boat shoes have sailed from Bermuda to Connecticut. They've seen the deep seas. Most people on the KU campus that have decided to pick them up can't say that."
Anderson said he could pull off a lot of different styles since he plays in the Volunteers, a local rock band.
"Last show I wore just a high school band jacket and all my manly chest hair," Anderson said. "I don't feel that I could legitimately wear that unless I was playing rock music."
Maggie Allen, meanwhile, looks closer to home for inspiration on what to wear.
The KU sophomore works at Envy, a new clothing store that opened in downtown Lawrence after spring break. When the shop received a shipment of bright heels, Allen picked up hot pink wedges, now her favorite item in her closet.
"It's easy to keep up on trends," Allen said. "If I don't have time to look through a magazine, I can just look through our shipments."
Copyright 2018 The Lawrence Journal-World. All rights reserved. This material may not be published, broadcast, rewritten or redistributed. We strive to uphold our values for every story published.