Fayetteville, Ark. — In 1994, Colorado's Rashaan Salaam beat out Penn State's Ki-Jana Carter for the Heisman Trophy. Neither running back went on to do much in the NFL, but that race remains notable for an interesting bit of trivia.
It's the only time since 1981 that no quarterback finished in the top two in the Heisman voting.
Fast forward to 2007, and it just might happen again. Last season's best running backs - including Heisman runner-up Darren McFadden of Arkansas - all are returning for another shot at the hardware.
"You see Darren McFadden has been on every magazine and you see how he practices. That is what excites you," said Razorbacks coach Houston Nutt, who expects defenses to gang up on his star tailback. "Everyone knows who number five is. When he gets off the bus, somebody's going to be watching him."
Last year, hardly anyone could contain McFadden. He rushed for 1,647 yards and finished second to Troy Smith in the voting for college football's top honor. Just behind, though, was West Virginia running back Steve Slaton, fourth in the Heisman race as a sophomore and a first team All-American with McFadden.
The second team All-Americans are back too - Ray Rice of Rutgers and Mike Hart of Michigan. Rice was a workhorse last season, leading the nation in carries as the Scarlet Knights went 11-2.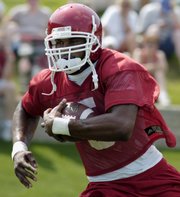 "I don't think about workload," Rice said. "I didn't really feel it. I just go out there and play my game. You're going to do what it takes to help your team win."
The most memorable moment of last season might have belonged to another running back. Ian Johnson of Boise State scored the winning two-point conversion in the Fiesta Bowl against Oklahoma on a Statue of Liberty play, then proposed to his girlfriend on the field. They are now married, and Johnson is back after rushing for over 1,700 yards last season.
From 1972-83, every Heisman winner was a running back. Times have changed, of course. Spread offenses have become more popular, and passing games are increasingly complex.
Nobody should expect the wishbone to make a comeback this year, and there's still a strong contingent of quarterbacks spread around the country. USC's John David Booty, Hawaii's Colt Brennan and Louisville's Brian Brohm all have Heisman potential.
But this year, they may be outnumbered.
P.J. Hill, who rushed for 1,569 yards as a redshirt freshman at Wisconsin last season, says he doesn't worry about what other players are doing.
"I'll watch the games, but I won't really, like, pick a running back and just watch him," Hill said. "Because that means I'm kind of like iffy about my game. I just like to bring my own game to the table."
Hill should take a second to look around. He might not see a group of running backs like this for a long time.
Copyright 2018 The Associated Press. All rights reserved. This material may not be published, broadcast, rewritten or redistributed. We strive to uphold our values for every story published.