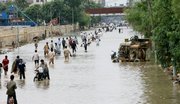 New Delhi — The death toll from this year's calamitous South Asian monsoons had surpassed 2,000 by Friday after a wild storm hit Pakistan's largest city. India asked doctors to cancel vacations and rushed food and medicine to flooded regions where disease had stricken thousands.
Adding to the misery, the monsoon rains that flood wide stretches of South Asia each year have forced creatures large and small onto whatever dry land can be found, resulting in scores of fatal snake bites.
Relief workers said there was an acute shortage of clean drinking water and medical supplies in parts of northern India, where storms have been heavier than usual this year.
With flooding from two weeks of rains finally receding in northern India, monsoon storms moved west. Heavy winds and rains lashed the Pakistani city of Karachi, destroying homes and flooding streets. At least 22 bodies were pulled from collapsed homes, said Anwar Kazi, a spokesman for the private relief service Edhi Foundation. Residents waded through waist-deep water in parts of the city of 15 million people.
Vital to farmers whose crops feed hundreds of millions of people, the monsoon season runs from June to September as the rains work their way across the subcontinent. At least 2,090 people have died so far this year, double the number killed last year. Nearly 600 have died in the past two weeks alone.
More than 1,550 have died in India; 226 have been killed in neighboring Bangladesh; 92 in Nepal, and at least 222 in Pakistan, officials said.
The storms have stranded 19 million people in India, Bangladesh and Pakistan. Nearly 243,000 people were still living in relief camps in India, the Home Ministry said.
The rainfall has been unevenly distributed across India this year due to unusual monsoon patterns, according to the country's Meteorological Department. While parts of central India received less rain, the north faced stronger storms for longer than usual.
The reprieve in the monsoon rains created ponds of stagnant water in India's Uttar Pradesh and Bihar states, and aid workers struggled to stave off a disease epidemic.
"Paramedics visiting affected villages don't have adequate supplies of medicines," Ramakant Rai, chief of state's Voluntary Health Association, said of Uttar Pradesh. He said clean drinking water was running low.
Copyright 2018 The Associated Press. All rights reserved. This material may not be published, broadcast, rewritten or redistributed. We strive to uphold our values for every story published.