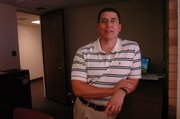 Michael Lynch Maestas, new director of Kansas University's Counseling and Psychological Services, has arrived at a time when university departments like CAPS have assumed a new level of prominence.
"All of a sudden, campus mental health has been thrust in the limelight," Lynch Maestas said.
This year's Virginia Tech shooting - committed by a student with a history of mental health problems - brought the importance of mental health on college campuses into the public consciousness. But Lynch Maestas said counseling and other services for troubled students have played important roles at universities across the country for years.
"No one ever hears about our successes from year to year," he said. "We address problems before they become something major. We do toil a lot in anonymity. This is an artifact of the mental health profession - we have to remain confidential."
Lynch Maestas, a licensed psychologist, has worked with university campus counseling services since his practicum training and internships during graduate school. He has a doctorate in psychology from the University of Nebraska.
He said working for university counseling services allowed him to balance the counseling experience he might find in a private practice with the science and research opportunities available on a university campus. He also works well with a university population, he said.
"I discovered very early on in my graduate training that I was not the type who would specialize in working with children or families," Lynch Maestas said. "This was much more of a natural fit."
During July, Lynch Maestas split time between his previous job at the University of Missouri and his new position at KU. This month, he began full-time work for CAPS.
At MU, he worked as interim co-director of the Counseling Center, a department similar to CAPS. He also worked as an adjunct professor of educational, school and counseling psychology. He said a professorship at KU could be a possibility after he takes about two years to settle into the director job.
Lynch Maestas said one day he aspires to move beyond counseling and psychology into university administration. Within about 15 years, he said, he expects to work as a vice provost or in a similar position.
"I view it as a way to be helpful on a larger scale, rather than with one individual or groups at a time," he said.
What's ahead
Pam Botts, who has a doctorate from KU in clinical psychology, has been interim director of CAPS since April 2006. She said the selection of a new director had been a "long, tedious process."
Botts said the department had been unable to plan much for the long term during its time without a permanent director.
"It will provide us with the stability in that position we need to go ahead and focus on the needs of the students," Botts said.
She said an important responsibility of the CAPS director would be to communicate with other KU departments about students' mental health needs. She said preventing disasters like Virginia Tech required all KU entities to make sure students who need help receive it.
For example, she said CAPS works with the student housing department to teach resident assistants and other staff how to identify students who may be emotionally distressed.
"We really like to think of it not just as being able to prevent those extreme situations, but also being able to identify any student in distress and help them think through their choices and to help them develop into happier people," Botts said.
New goals
Lynch Maestas said increasing communication between CAPS and other KU entities was one of his goals upon arrival.
He said more students needed campus mental health services than ever. One study showed that about 20 percent of students arriving on college campuses take antidepressants, he said.
"We're in a tough spot now," he said.
But Lynch Maestas, a western Kansas native who earned his bachelor's degree from McPherson College, said he had looked forward to working at KU.
"I've grown up bleeding crimson and blue," he said. "It'll be nice to go to work just a couple of blocks away from Allen Fieldhouse."
Copyright 2018 The Lawrence Journal-World. All rights reserved. This material may not be published, broadcast, rewritten or redistributed. We strive to uphold our values for every story published.