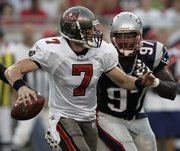 Tampa, Fla. — The Associated Press
Matt Bryant's 32-yard field goal as time expired gave Tampa Bay a 13-10 victory over New England on Friday night.
Jeff Garcia worked two three-and-out series in his debut at quarterback for the Buccaneers. Luke McCown, who didn't play in 2006 after undergoing knee surgery, played in a game for the first time since the 2005 preseason and completed all seven of his passes for 68 yards and one touchdown for the Bucs.
New England fans didn't get to see their new passing tandem work together.
Tom Brady started and was in for 13 plays for New England, while Moss, obtained in a draft-day trade with Oakland, sat out as expected with a sore hamstring that's slowed him during training camp.
Fullback Mike Alstott, out for the season with a neck injury that may end his career, was introduced with Tampa Bay's offensive starters and received a big ovation when he jogged onto the field wearing a baseball cap, blue jeans and his No. 40 jersey.
Jets 31, Falcons 16
East Rutherford, N.J. - Backup Kellen Clemens was 16-of-22 for 174 yards and three touchdowns - two to Sean Ryan - and the New York Jets beat Atlanta 31-16 in the preseason opener for both.
Clemens, who completed nine straight passes at one stretch, came in for Chad Pennington, who didn't attempt a pass in his two series.
Joey Harrington looked comfortable running the Falcons' offense. He was 6-of-9 for 88 yards.
Thomas Jones, acquired by the Jets from Chicago in the offseason, ran eight times for 27 yards, including a 1-yard touchdown that was set up by Leon Washington's 86-yard kickoff return.
Rams 13, Vikings 10
Minneapolis - Kevin Lovell's second field goal of the game, a 40-yarder as time expired, gave St. Louis the victory.
Rookie Brian Leonard, a second-round draft pick from Rutgers, was the star for St. Louis with a 10-yard touchdown run up the middle that gave his team a 7-3 lead. The backup to Pro Bowl pick Steven Jackson, Leonard rushed nine times for 36 yards and caught five passes for 30 yards.
Dontarrious Thomas returned his second interception of the night 82 yards early in the third quarter for the Vikings' lone touchdown.
Ryan Longwell pulled a 42-yard field goal wide left, missing a chance to give Minnesota the lead at the 3-minute mark. Longwell didn't miss a kick under 46 yards all last season.
Tarvaris Jackson was sharp with 83 yards on 8-for-11 passing and 25 yards on two scrambles for the Vikings.
Bills 13, Saints 10
New Orleans - Rian Lindell's 54-yard field goal gave Buffalo the lead for good with 3:23 to go.
Second-year reserve running back Fred Jackson ran for 49 yards and scored the Bills' only touchdown on a tackle-breaking 17-yard run that he capped by diving over the goal line.
Drew Brees completed 12 passes to seven receivers for 118 yards on only two offensive series for the Saints (0-2). Both drives stalled inside the Bills' 30, and new kicker Olindo Mare made one of two field goals as the other was blocked.
Saints top draft pick Robert Meachem hauled in a difficult, over-the-shoulder catch from Tyler Palko in the corner of the end zone to tie the game at 10 in the fourth quarter.
Reggie Bush lined up all over the field for New Orleans. He ran up the middle for 13 yards, caught a screen for 8 and a pass to the right flat for 17 yards after lining up as a wideout.
Copyright 2018 The Lawrence Journal-World. All rights reserved. This material may not be published, broadcast, rewritten or redistributed. We strive to uphold our values for every story published.