On the street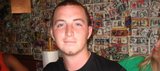 Wescoe Beach. That's where everyone is between classes. You can hang out there, eat or catch some sun.
Kansas University's campus has some attractions that are almost impossible to miss if you spend time in Lawrence, including Allen Fieldhouse, the Natural History Museum and the Dole Institute of Politics.
But the campus also has its out-of-the-way, often-overlooked spots that give visitors, townies or new students a feel for the character of the campus. Here, in no particular order, is our top 10:
1. Sensory Garden: The garden at KU's Baehr Audio-Reader Center, 1120 W. 11th St., is designed to create an experience for everyone, including blind visitors. It includes textured plants such as lamb's ears, fragrant herbs such as mint and lavender, and wind chimes.
The plants are arranged along a winding brick path in raised beds, which makes them accessible to people in wheelchairs. The garden is open to the public, but tours are available by calling 864-4634 or e-mailing Diana Frederick at dianafr@ku.edu.
The Audio-Reader Network is a reading service that makes written materials accessible to the blind and visually impaired.
2. Spencer Research Library: Whether you're looking for historic Kansas documents, rare works by author John Bunyan, cuneiform tablets from 2,000 B.C., or copies of The Black Panther magazine and other 1960s protest paraphernalia, the Kenneth Spencer Research Library has it. The library's materials are available for review by the general public but may not be removed from the building. Visitors must register, present photo identification, and agree to terms of use - including keeping all food and drink outside. (There's nothing worse than a glob of mustard on an ancient papyrus.)
"The library system belongs to the people of Kansas," said Bill Crowe, the Spencer librarian. "Our primary job is to help educate people who are here as students, but our job is also to enrich the knowledge base for the state."
More information is available at http://spencer.lib.ku.edu.
3. Jaybowl: Until he decided to enter the NBA draft, this bowling alley inside the Kansas Union was KU basketball star Julian Wright's favorite hangout on campus. As of July 1, games will cost $3 for the general public and $2.50 for KU students. Shoe rentals cost $2.
For KU students, there's free "cosmic bowling" from 10 p.m. to 1 a.m. Friday and Saturday nights. On Fridays, games, shoes and drinks are $1 each. More information is available by calling 864-3545.
4. ECM Veggie Lunch: It's technically not on the KU campus, but the Ecumenical Christian Ministries building at Oread Avenue and 12th Street offers a donation-basis "veggie lunch" that's open to the public from 11:30 a.m. to 1:30 p.m. every Thursday throughout the spring, summer and fall sessions. The event, organized by student volunteers, is a tradition that's been in place since the late 1990s.
"For us as a ministry, our mission was really hospitality - at a big university like this, to have a place where people can meet each other," said Thad Holcombe, ECM campus minister.
5. Pioneer Cemetery: This tree-lined cemetery south of the Lied Center on KU's West Campus was the first cemetery in Lawrence when it was created in 1854. People buried there include Civil War veterans, victims of the 1863 massacre in Lawrence by William Quantrill's forces, and former KU leaders such as Chancellor Deane Mallott. At times it has fallen into neglect - a speech in 1906 by C.W. Smith, a member of a Civil War veterans' group, declared it a "lasting disgrace" - but it has been kept in progressively better repair in recent decades. This year, a local chapter of Sons of Union Veterans of the Civil War finished raising about $1,000 to refurbish a monument to unknown Civil War dead buried in the cemetery.
6. SUA Film series: Each semester, KU's Student Union Activities organization shows a series of films ranging from recent box-office hits to obscure art-house flicks. The films usually are shown in Woodruff Auditorium in the Kansas Union. The cost is $3 for the general public and $2 for KU students. The schedule for the fall semester hasn't been set, but the spring 2007 lineup included the satire smash "Borat" and Will Smith in "The Pursuit of Happyness." More information is available at www.suaevents.com.
7. Mrs. E's: To get a feel for the life of a KU freshman - and insight into the phenomenon of the "freshman 15" - stop by this Daisy Hill cafeteria formally known as Ekdahl Dining Commons. On a typical day, the smorgasbord includes stir-fry, pasta, pizza, hamburgers, deli sandwiches, a salad bar, ice cream and classic cafeteria grub such as salisbury steak and mashed potatoes. Adult visitors pay $9 for dinner, $8 for breakfast and $7 for lunch; children eat for half-price.
8. Butterfly garden: KU's "Monarch Watch" program maintains a well-tended, colorful butterfly garden at Foley Hall on KU's West Campus that's open to the public. It includes butterfly-friendly plants such as salvia, butterfly bush and plenty of milkweed. On the second September of each year - timed to coincide with monarchs' migration from the north - the program has an open house and gives away hundreds of butterfly pupae. In the spring, the group has another open house and a plant-sale fundraiser.
9. Danforth Chapel: Most people know of Danforth Chapel as the spot where countless pairs of KU lovers have been married throughout the years. (In the spring and early summer, it's the site of an average of four weddings per week.) But some people don't realize the chapel is open for "individual meditation" from 7:30 a.m. to 10 p.m. when classes are in session. When it's empty, the building is breathtakingly quiet, and the light filtering through the stained glass is beautiful.
The chapel will be closed until September for renovations.
10. Carillon concerts: When KU is in session, there's usually a concert once per week - typically on Sunday afternoons - played on the carillon bells atop the 120-foot-tall Memorial Campanile. KU suggests taking up a listening spot at least 200 feet away, such as at Potter Lake or south of Memorial Stadium. The concerts are followed by tours of the Campanile. More information is available at www.carillon.ku.edu.
Copyright 2018 The Lawrence Journal-World. All rights reserved. This material may not be published, broadcast, rewritten or redistributed. We strive to uphold our values for every story published.