Movie
Rescue Dawn
*** 1/2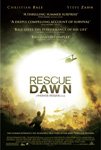 Christian Bale stars as a Vietnam War-era pilot shot down over Laos in Werner Herzog's gripping true-life saga of imprisonment, escape and survival in an unforgiving jungle. Herzog's ("Grizzly Man") pet theme of disconnect between humans and the natural realm remains the keystone of his most accessible and entertaining film.
Get movie listings, reviews, and more at lawrence.com
-->
-->
The bamboo walls of the rain forest POW camp are mostly for show. "It's the jungle that is the prison," an American captive warns a newcomer. "Rescue Dawn," a heroic adventure story from the maverick German art film director Werner Herzog, proves the point beyond dispute. Dangerous as armed guards may be, they're nothing compared with the dense, unthinkably vast green maze beyond.
Herzog, who shuttles between documentaries ("Grizzly Man") and fiction ("Aguirre, the Wrath of God"), has made the disconnect between humans and the natural realm his pet theme. Here it becomes the keystone of his most accessible and entertaining film.
The fact-based film recounts the 1966 downing of U.S. Navy pilot Dieter Dengler on a bombing run over Laos, his months of captivity and his methodically planned escape. Dengler, as played by Christian Bale, is a naive good guy and an oddball. During a WWII air raid on his German hometown, little Dieter saw an American pilot fly so close to his attic window that they momentarily locked eyes.
From that time on, Dengler was intoxicated with flight. He joined the service not out of a desire for combat, but for the exhilaration of soaring in the clouds. When he loses a wing to anti-aircraft fire, plows into a rice paddy and is captured by Pathet Lao guerrillas, he's crestfallen as a caged eagle.
And as eager to fly the coop. Dengler plots his getaway from the moment he's incarcerated with five haggard inmates. Depressive Duane (Steve Zahn, impressively gaunt) tells him the effort is foolhardy. Delusional Eugene (Jeremy Davies) insists that the war is sure to end any day. But Dengler's Yankee optimism and German pragmatism are steadfast. He creates a lockpick for their handcuffs and makes tiny blades from spent cartridges to saw through the fence's rattan cords. All that remains is finding an opportune moment, a tense waiting game that lasts for months.
Herzog shows all of this with a fresh, observant eye. While sadism is a staple of most POW movies, Herzog focuses instead on the punishing tedium and deprivation of confinement. And filming on location in Thailand gives the film a harshly sensual look, and a realistic tone most action thrillers lack.
The film ends on a triumphant note and a dose of Herzog's enigmatic philosophy. When Dengler is welcomed back aboard by his cheering shipmates, the master of ceremonies asks, "What carried you through? Was it your belief in God or country?" Dengler can't answer. "Well, you must believe in something," the MC presses. Dengler says, "I believe I need a steak." Asked for survival advice, he grins, "Empty what is full, fill what is empty, scratch where it itches."
Is his joke hard-earned wisdom, or an exhausted, overwhelmed man's foolishness? In Herzog's world, you can't be a hero without combining both.
Copyright 2018 The Lawrence Journal-World. All rights reserved. This material may not be published, broadcast, rewritten or redistributed. We strive to uphold our values for every story published.