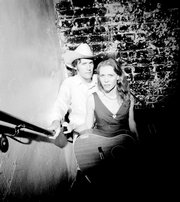 Past Event
When: Saturday, August 11, 2007, 8 p.m.
Where: Liberty Hall Cinema, 644 Massachussets Street, Lawrence
Cost: $24.50
-->
-->
After being exposed to Gillian Welch's music, a listener unfamiliar with the singer-songwriter might conjure a distinct mental picture of her.
She is likely a Southerner who grew up in dirt-poor conditions. Learned to play guitar from her grandpappy. Still lives on a farm. Wears a lot of gingham.
In truth, Welch is a New York City native raised primarily in Los Angeles by parents who co-wrote the Emmy-winning musical numbers on "The Carol Burnett Show."
Somehow her inherent talent has bathed her rootsy music in an aura of authenticity more powerful than any rural back-story.
"You don't have to be what you sing about. But your music has to be true," Welch says.
"It's like Merle Travis, who wrote 'Dark as a Dungeon.' That's one of the greatest coal mining songs ever. Was he a coal miner? No. The dude was a songwriter. What about Ernest Hemingway? Cuban fisherman? No. But he wrote 'The Old Man and the Sea.'"
The Grammy-winning Welch - who has spent the last 15 years honing her career in Nashville - is now the poster child for a blend of neotraditional country and rustic folk that she dubs "American primitive."
Teamed with guitarist-vocalist David Rawlings, her perpetual partner since meeting at Berklee College of Music in Boston, Welch says she is still trying to come to terms with being perceived as a "traditionalist."
"Tradition informs everything I do, but it's not what I do," she says. "It's sort of the lending library where I go for information. None of this stuff comes out of thin air, right? Everything we do on a certain level is recycled. It's like matter itself: It just gets recombined. There really are only a couple notes. And for that matter, there really aren't even that many words."
The 39-year-old performer emphasizes she and Rawlings are constantly "trying to forge this completely new creature" when it comes to their musical direction.
She says, "When we're working and playing I have such a sense of forward motion. We do so much problem solving that what we do has to be new. If we were doing it some traditional way, the map would be there. And we're so off the map."
Song for Lawrence
Welch can be considered all over the map in terms of her fanbase.
She just returned this week from an extended tour in Europe, where her Americana stylings have cultivated a hardcore audience.
"There's a correlation between me getting into a city and going, 'Wow, this is a cool city,' and how popular we are in that city. Places that are cloudy and colder mean there are going to be more people who like our music," she explains. "The newest one I've discovered is Stockholm, Sweden."
Welch (whose first name Gillian is pronounced with a "guh" not a "juh" sound) believes she's found the secret to not getting burned out by the constant touring.
"I do my own driving, because then I don't feel like I'm being schlepped around the planet. People who have tour managers and buses and (handlers) who tell them where to be at every moment, I don't know how they don't lose their mind. It's just a hop and a skip to feeling like someone's making you (perform music)," she says.
Despite being based in Nashville, Welch recalls playing Lawrence only once before - three years ago at Liberty Hall, where she'll return on Saturday. Yet her original trip to the city is still etched in her memory.
"I have very strong memories of the train rolling through and being able to hear it from the hotel. I was up and I was writing, and I guess I couldn't go to sleep. I had that feeling when you hear a really late train rolling through, and you wonder how many people are hearing it. That particular night it was that very lonesome feeling like I was the only one."
What also stuck with her about Lawrence was discovering that the Eldridge Hotel, where she was staying, had been burned down twice.
"I was taking a bath or a shower there, and I got this little couplet in my head," she recalls. "I never did anything with it, but I had: 'This hotel's been burned down twice / Built it back twice as nice.'"
Cinematic pairing
Even if folks have never seen Welch perform live, chances are they've heard her songs in a movie theater. She has contributed to 13 different soundtracks, including "The Astronaut Farmer," "The Good Girl," "Songcatcher" and "The Horse Whisperer."
"There's something very panoramic about the sound that we make with just the four components: the two guitars and two voices. The elements are so restrained in a way that it's like a haiku. There's so much space between all the notes, around the notes, under the notes, above the notes. It ends up being a very spatial panorama. Somehow that goes well with visual things."
Her most notable contribution came on the Grammy-winning, multiplatinum soundtrack to the Coen Brothers hit, "O Brother Where Art Thou?" Welch joined Emmylou Harris and Alison Krauss to give voice to the 2000 film's trio of ethereal sirens.
She even earned a speaking role in the movie as a fan in a record store trying to buy a copy of the tune "Man of Constant Sorrow."
"I keep getting asked to be in movies, and I keep turning them down," she says. "I'm not an actor. I was in that Coen Brothers movie because they really wanted me to be - and I didn't have to act. I kind of regret not being in the last Robert Altman movie ('A Prairie Home Companion') because they asked me to do that. I said no because movies take so long. Even for a really small part, they take three months of your life in a city you don't live in."
Eclectic collaborations
Welch is far more open to collaborating with other artists in the recording studio or concert stage than on a film set.
The list of performers she's worked with is both impressive and eclectic - especially for someone so known for her Americana style. (She says, "It's really valuable to work with other people whose work you like, because you get that rare glimpse into 'how do other people do this?'")
Who else can claim to have shared a microphone with Ralph Stanley, Elvis Costello, Norah Jones, Ryan Adams and Bright Eyes? Don't be surprised if she makes a surprise onstage appearance at one of their concerts, either.
In fact, that might be her on the road right now ... driving to the next gig with Rawlings and a soundman in tow.
"I typically do the graveyard shift. If we need midnight to 4 a.m., that's me," Welch says. "I can't get any more speeding tickets, though. I've gotten a lot."
Copyright 2018 The Lawrence Journal-World. All rights reserved. This material may not be published, broadcast, rewritten or redistributed. We strive to uphold our values for every story published.