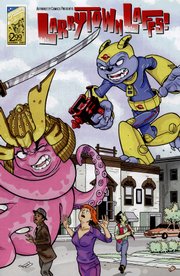 For years, a great way to gain an introduction to Lawrence's music scene was to pick up a local compilation CD. These discs - spearheaded by area record labels or venues - typically would showcase more than a dozen Lawrence bands, offering a sonic sampler platter of the city's music scene.
A new project is providing the same service, but this time comic creators are the focus.
"Larrytown Laffs" is the first of a proposed anthology series. This brainchild of Astrokitty Comics owner Joel Pfannenstiel gathers nine local collaborators into a 24-page "collection of comedic sequential artistry."
Pfannenstiel first hatched the idea during a November Drink & Draw gathering at which he and his comic book contemporaries bounced ideas off each other between six packs.
"Most people are aware that some friends of theirs draw and do cartooning and stuff. But I'm always amazed by the amount of people I see who are just really good and have no clue that they're that good," Pfannenstiel says.
"So I said, 'Let's pool all this talent from this pseudoscene of comic book artists and creators and do a book to promote our stuff.'"
According to Pfannenstiel, all the contributors are either current or former Lawrence residents.
"Lawrence creators tend to do stories that trade on personal relationships and absurdist humor, as opposed to long underwear epics or space operas," says writer/artist Tom Avery. "Don't get me wrong. I grew up reading the superhero and sci-fi stuff, too, and still enjoy it quite a bit, but there's a lot more to comics than just those genres. The Lawrence scene reflects that."
Avery contributes two very dissimilar comics to "Larrytown Laffs."
"One is based upon my experiences during long shifts working at a big chain bookstore ('True Tales of Bookselling: Hard at Work') and one is a wacky piece which was inspired by juggling the phrases of a popular saying ('The Pontificate of Pope Ursa I'). The second story has a few laughs at the expense of the Catholic Church, but should the saying have made reference to some Baptist, Buddhist or Hindu religious figure then one of those religions would have been picked on. In substance, it's strictly nondenominational silliness, really.
"As to the first story, I think anyone who's had to work retail for any length of time experiences off-peak moments like I outlined in this installment of 'True Tales.'"
Pfannenstiel is already at work on the next "Larrytown" projects, which offer variations on the theme. In addition to a cowboy-centric comic called "Best Western," an anthology is in the works called "Larryvillains United."
"The keyword that everyone can run with is villains or villainy," Pfannenstiel explains. "We hope to get everything from auto-bio pieces to superhero pieces to humor pieces. I know Tom Avery is doing a piece on Ann Coulter."
Copyright 2018 The Lawrence Journal-World. All rights reserved. This material may not be published, broadcast, rewritten or redistributed. We strive to uphold our values for every story published.