Photo Gallery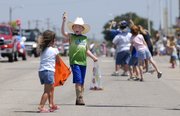 Kansas' Biggest Rodeo
The baritone voice of John Wayne reverberated throughout the arena reciting "America, Why I Love Her" to the thousands of denim-clad cowboys and cowgirls.
A discord of smells, including manure, hamburgers and sweat, wafted overhead as the announcer's microphone screeched sharply into focus.
"Are you guys ready for some rodeo?" chirped the announcer, bouncing wall-to-wall sound in an overhead booth.
Since 1929, rodeo fans nationwide have transformed Phillipsburg, a small northwestern Kansas town, into a bustling, unpredictable city. Home of Kansas' Biggest Rodeo, Phillipsburg, about 60 miles north of Hays in Phillips County, is an anomaly in western Kansas, where the state's population is declining and aging, and communities struggle to find a voice in contemporary America.
"It's probably what's keeping this town alive," said Terry Gitchel, a Phillipsburg resident and past amateur bull rider. "There would be a lot less money coming into this place, I know that."
The population of Phillipsburg swelled to three times its normal size Saturday as an estimated 6,000 people flocked to the annual rodeo. The town's two motels were booked six months in advance. Long waits at the local restaurants were expected.
The event attracts the biggest names in rodeo, including past and current world champions, homegrown Kansas talent hoping to make it big, and even Frenchman Evan Jayne, a bareback rider from Marseille, who shared this year's bareback title with Chris Harris, of Itasca, Texas.
"This rodeo has turned into a community event," said Rod Innes, president of the rodeo. "Class reunions are held on this weekend. Family reunions are held on this weekend. Everyone comes home for the rodeo." The rodeo, it seems, is intrinsically linked to life in Phillipsburg.
Peyton Baldwin, a Kansas University senior from Gardner, was busy selling custom ropes, hats, spurs, boots and belt buckles in her family-owned and operated mobile western store. Baldwin and her family travel the country each summer hitting the professional rodeo circuit and state fairs.
"For a little town like this, it's a big deal," said Baldwin as she counted change in the mobile storefront parked on the rodeo grounds.
Beneath the stands, rodeo cowboys taped their arms, tucked their Wranglers inside their boots and stretched, preparing for the first and most physically demanding event of the evening: the bareback ride.
Dressed in neon and doused in makeup, Greg Rumohr, a bull fighter from Rio Vista, Texas, entertained the crowd with daring encounters with 2,000-pound bulls in the arena.
"I've had my ears tore off," Rumohr said. "The worst one I took was when a bull stuck a horn on the inside of the cheek of my butt. It didn't go into my intestines so I was able to fight bulls the next night."
Copyright 2018 The Lawrence Journal-World. All rights reserved. This material may not be published, broadcast, rewritten or redistributed. We strive to uphold our values for every story published.