Freshly shaven, with a brand-new uniform and accompanied by his typical good mood, Kansas University sophomore Todd Reesing chatted with reporters for close to an hour Tuesday at KU's hectic football media day.
Perhaps his first public obligation as the team's No. 1 quarterback?
KU coach Mark Mangino insisted that he has not picked a starter for the Sept. 1 opener against Central Michigan, but he did imply Tuesday at Hadl Auditorium that Reesing is making a strong case to play over sophomore incumbent Kerry Meier.
"From spring to two-a-days, Reesing has probably advanced his overall play a little bit more so than Meier has," said Mangino, for once providing insight into the lengthy competition.
Mangino didn't come out and say that Reesing is the front-runner, and KU's sixth-year coach said there was no deadline to pick one. But it was obvious that Reesing has impressed between the spring and preseason workouts, which continue with the first two-a-day today.
"Reesing has made some strides," Mangino said. "A lot of it has to do with the fact that he's probably dropped 20 pounds, and he's gained a lot of strength, and he's zipping the ball with more spin than he ever has."
Reesing looked noticeably more fit Tuesday than he did in the spring. He attributed it to watching his diet and working hard in the summer conditioning program under strength coach Chris Dawson.
"I was trying to lose a few pounds of fat and gain some muscle, and I did that," Reesing said. "I feel a lot better coming into this camp - probably the best I've ever been."
Reesing and Meier split repetitions at KU's open practice Sunday, though Meier seemed to run a bit gingerly on options and roll-outs. He did participate in all the drills and Tuesday denied he was hampered by an injury.
"Not really," Meier said. "Back in the summer, I got a little dinged up. But I'm healthy now."
Meier was KU's starting quarterback last season, but he missed four games because of a shoulder injury. KU's coaching staff pulled Reesing's red shirt during the ninth game of the season against Colorado, then used both Meier and Reesing against Iowa State and Missouri.
Mangino said he doesn't want it going down that way again.
"It is my intent to have a No. 1 quarterback. We're going to approach it that way," Mangino said. "If there's a scenario that proves differently that will help our football team, I'm certainly not opposed to anything that will help us win in terms of a two-quarterback system. But that's not the way I plan to go."
Meier and Reesing both have good throwing arms, though the 6-foot-3 Meier is bigger and faster than the 5-10 Reesing. Still, Reesing showed serious ability in flashes last season, compiling 204 yards and three touchdowns on 14-of-24 passing.
"I go out there every day and I lay it on the line. I play as hard as I can," Reesing said, stating his case. "I never quit on something, and sometimes that may hurt me. I want every play to be positive, and sometimes I have trouble throwing the ball away. I want something to be there.
"But that kind of attitude, that I'm going to play and give it all I got : guys see that and respect that, and they want to play with someone who plays like that."
Meier, meanwhile, is right in the thick of things as well. He has a red-shirt season under his belt and a little more experience, having thrown for 1,193 yards and 13 touchdowns in 2006.
Mangino didn't put down Meier while praising Reesing. But he did offer constructive criticism for his incumbent, who apparently is in a feisty fight for his job.
"For Kerry, it's just a matter of getting the reads and throwing the ball confidently," Mangino said.
So the battle continues, and perhaps it will linger up until game week or even beyond. But Tuesday, there was finally a clue - one that favored Reesing.
Photo Gallery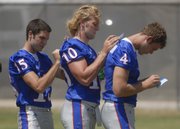 KU Media Day 2007
"He's in the best shape he's ever been in," Mangino said. "He is throwing the ball really well."
KU football schedule
Sept. 1 - Central Michigan, 6 p.m.
Sept. 8 - Southeast Louisiana, 6 p.m.
Sept. 15 - Toledo, 6 p.m.
Sept. 22 - Florida International, 6 p.m.
Oct. 6 - at Kansas State, TBA
Oct. 13 - Baylor, TBA
Oct. 20 - at Colorado, TBA
Oct. 27 - at Texas A&M;, TBA
Nov. 3 - Nebraska, TBA
Nov. 10 - at Oklahoma State, TBA
Nov. 17 - Iowa State, TBA
Nov. 24 - Missouri at Arrowhead Stadium, TBA
Copyright 2018 The Lawrence Journal-World. All rights reserved. This material may not be published, broadcast, rewritten or redistributed. We strive to uphold our values for every story published.