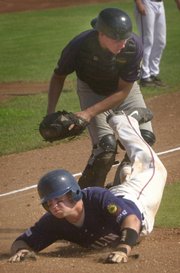 Salina — The Lawrence Raiders' streak of Class AAA American Legion baseball state titles came to end Tuesday when they lost to the Salina Falcons in the second championship game, 8-2, at Dean Evans Stadium.
After averaging nearly 13 runs per game in the state tournament, the Raiders (31-17) went cold offensively, and they could only collect two runs on five hits.
The Falcons, meanwhile, were able to score all eight of their runs with two outs.
"It's always sweet to win, but we knew coming in we were going to have to play a hard game," said Kyle Cross, a member of the 2006 Raiders squad that won the program's fourth consecutive state championship. "You never come in thinking that you're going to lose, but today we did think we were going to have to come in here and play a hard game. We played real hard, we had a few mistakes, and that's what cost us the game."
The Raiders couldn't build any momentum after scoring in the first inning when Cross hit into a double play to score Hunter Scheib. Salina's starting pitcher, Kalan Norton, responded by retiring the next seven Lawrence batters in order.
"We just couldn't find any holes, or we didn't have a real big inning like they did, so that hurt us," Lawrence's Ben Wilson said. "We got a lot of our hits with one or two outs, so it's hard to get those two-out rallies, and we didn't get those today. We didn't score runs, and that's what happens. They're a good offensive club, and you've got to score runs if you're going to beat them."
In the top of the fourth inning, Salina finally broke through, scoring four runs and chasing starter Caleb Gress. Alex Hardman then came in and struck out the first batter he faced to end the threat.
"When a team can score more in one inning than you do in the whole game, that's usually the end of it," Cross said.
The Raiders were able to get one back in the bottom half of the inning when Cross scored on a Joe Kornbrust sacrifice fly.
But over the next three innings, Salina scored three more runs that were unearned due to four errors by the Raiders defense.
The Raiders ended up hitting just one extra-base hit off Norton, but a double by Wilson in the sixth inning came with two outs, and John Novotny followed up with a strikeout.
As the game progressed, the Raiders still were unable to adjust to Norton, who went all nine innings, striking out six Lawrence batters and inducing three double plays - the third one being the game-clincher.
"He pitched really well. He didn't have overpowering stuff, but he found a way to win with it," Cross said. "And you've got to give him credit for that. We swung hard, we tried to win, but we came up a little short."
Although Edmondson's first year as coach of the Raiders ended in disappointed, a lot of the players viewed his debut as successful.
"Coach E. did a great job of developing our players and finding out who works well with who," Wilson said. "He's been a great coach and taught us a lot about baseball. We didn't come away with a state championship, but he taught us so much, and everybody knows a lot more about the game and plays the game a lot harder."
For Edmondson, his inaugural season at the helm of the Raiders program ended just a little too soon.
"Like I told the kids, 'You can't allow one game to ruin your season,'" Edmondson said. "Every team is going to end with a loss, except one team, and that's the national champions. So reflect back on every positive thing that's happened, how each kid has gotten better, how we've learned to grow and win as a team. We made a heck of a run and (came up) just one game shy. ...
"It was extremely fun. I loved every second of it, and I think the thing that hurts more than anything is that we won't be practicing tomorrow, and we won't be practicing the next day. I'm going to miss these kids very much ,and I'll have withdrawals for the next several weeks."
Copyright 2018 The Lawrence Journal-World. All rights reserved. This material may not be published, broadcast, rewritten or redistributed. We strive to uphold our values for every story published.