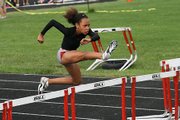 Alexa Harmon-Thomas' mother Kelly isn't usually surprised by the accomplishments of her 11-year-old daughter. But last week at the Amateur Athletic Union Junior Olympics in Knoxville, Tenn., she was taken aback.
"It was the hurdles," Kelly Harmon said. "She's new to them, she started in February and she already looks like she's been doing it forever."
The surprise came from Alexa's dominating performance in the 80-meter hurdles. She not only won the event with a time of 12.79 seconds, she brought home a national record to go with it.
Alexa though isn't all that surprised.
"I'm pretty confident when I go out to compete," she said. "But I'm a little surprised when I go out and do better than I think I can."
Alexa's performance at last week's Olympics didn't stop at the hurdles, she added two more national championships and another record.
She took home gold medals in the pentathlon and long jump. Her pentathlon finish of 2,885 points gave her the second national record.
Alexa added a second-place finish in the high jump for good measure.
Her experience in Knoxville was foreshadowed by an equally outstanding performance in the AAU Club Championships in July at Orlando, Fla.
In that meet she finished with two national championships and two more records.
With all of the accomplishments made at these events, one might think focus wouldn't be an issue.
But sometimes Alexa needs a bit of a push.
"Occasionally she needs a little motivation," Kelly said. "But that's mainly because she's 11 years old. There are distractions at that age."
Even though there are distractions, Alexa and her mother have come up with an approach to keep her eyes on the prize.
"My mom and I have made a deal," Alexa said, "that when it's time for me to race I have to be focused. But when the race is over I can talk all I want."
Although Alexa has a number of records and titles in the books, the greater question may be where will she put all of those medals.
"They're in my grandma's basement," Alexa said. "She had to get a new cabinet to put them in."
Copyright 2018 The Lawrence Journal-World. All rights reserved. This material may not be published, broadcast, rewritten or redistributed. We strive to uphold our values for every story published.