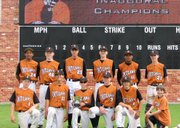 The 14-and-under Kansas Outlaws took home the state championship in the United States Specialty Sports Association Kansas state tournament this July in Olathe.
The Outlaws were poised to make a run at the title in the typical weekend pool-play format. But heavy rains set in and the team was forced wait it out and make its title run with four games in one day.
The team managed to secure an opening round win during Friday's scheduled games. That was a 13-3 run-rule victory over the defending tournament champion Olathe Indians.
The tournament resumed on Sunday where the Outlaws settled in and did their damage during a four-game grind. The Outlaws got their first win of the day by dispatching Mill Valley. That victory gave the team a shot at the No. 1 ranked team in the state, the Kansas Gators.
In a tough match-up, the Outlaws managed to come away with a 4-2 victory.
In the semi-finals, the team took down the K.C. White Sox to earn a trip to the championship game.
In the championship game, the Outlaws got off to a fast start and put the finishing touches on their all-day run with a 7-2 victory over the Bulldogs from Topeka. The championship gave the Outlaws a 5-0 record for the tournament.
Three Lawrence residents were part of the Outlaws title team: Jake Johnson, Ty Hensley and Mason Barr.
Copyright 2018 The Lawrence Journal-World. All rights reserved. This material may not be published, broadcast, rewritten or redistributed. We strive to uphold our values for every story published.