Photo Gallery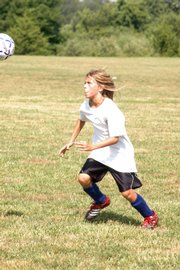 KVSA soccer camp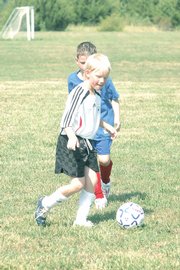 Coaches' tips for young players during the heat:
Drink plenty of fluids the entire day.
Get plenty of rest the night before; rest helps keep fluids in the body.
Don't be afraid to speak up if you aren't feeling good.
The Summer of 2007 has been by most accounts mild. Through normally hot months of June and July, temperatures have stayed below the 90s. Until now.
August has ushered in the scorching temperatures that many are accustomed to.
For youngsters gathering on the practice fields for their fall sports, the milder temperatures of early summer can make them forget about that all important sports ingredient - water.
"It (the mild temperatures) can lull them into it," said Lawrence Youth Football coach Bret Toelkes. "Sometimes, especially during mild months, they work out, and it's not as bad, and they don't think they need to drink as much water as normal."
Toelkes said another factor that can have an impact on young players and their hydration needs is staying indoors in the air conditioning for too long.
That can make players, especially younger ones, unaccustomed to the heat and unaware of the importance of keeping hydrated.
That awareness is crucial for youngsters heading out to the practice fields.
One key for young players to stay hydrated isn't just getting enough water, it's getting enough water the entire day.
"Some of the players just drink while they're here," said Kaw Valley Soccer Association coach Mauro Nobre. "We tell them to drink all day. It's so important for them to keep hydrated the entire day, from the beginning of the day.
Toelkes agreed.
"They need to understand that they need to carry water with them wherever they go," Toelkes said. "Make it a habit."
Frequency is another key to keeping enough fluids in the body. Although Nobre's soccer camps occur in the morning, frequent water breaks remain the top priority.
"We give them many water breaks," Nobre said. "Even during some of the games (in August), we stop in the middle of each half and give them a water break."
Toelkes and his coaches have adopted a strategy for keeping an eye on their players' water intake during practices.
"We tell the kids, if you leave with water in your jug, then you haven't had enough," Toelkes said.
As hard as the players on the soccer field practice during the heat, football players must practice with a little something extra: helmets and pads.
The added weight makes it even more important for young players to stay hydrated.
"With the helmets and the pads, they start sweating as soon as they've put them on," Toelkes said. "So it's important keep an eye on them when they practice. The days of salt pills and no water breaks are long gone. That wasn't a very good way to do it."
Copyright 2018 The Lawrence Journal-World. All rights reserved. This material may not be published, broadcast, rewritten or redistributed. We strive to uphold our values for every story published.