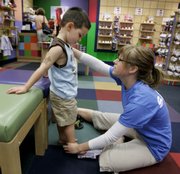 New York — The silver lining for children who aren't happy that a new year of school is just around the corner is that new stuff - clothes, accessories and supplies - is likely to come with it.
And if these kids are anything like their mothers, one of the highlights will be new shoes.
But we ask more of school shoes than summer's flip-flops or sandals: School shoes need to be multi-taskers. They need to be cool enough so kids will want to wear them. They need to fit well so they'll be comfortable and last a busy day, and they need to offer value to win over parents who foot the bill.
"School shoes are shoes that go with a lot of outfits," says Celeste Risimini-Johnson, who is overseeing The Children's Place expansion of its shoe collection this fall. "They need to be versatile. Kids tend to gravitate to the most comfortable shoe and wear it everyday."
She adds: "The love for shoes starts early."
It's widely believed in the industry that children start influencing purchasing decisions around age 3, with girls showing a particularly keen interest. From May 2006 to May of this year, market researcher The NPD Group tallied children's shoe sales as totaling more than $5.7 billion, with the average price of $18.06 a pair. That marks a $1 billion increase in sales from only two years earlier.
Fashion-forward
Part of the growth could be attributed to more fashion-focused footwear - there certainly seem to be a lot more rhinestones, appliques and European-style designs than ever before. Also, top women's styles for the past year have favored flats, especially ballerina flats and motorcycle boots, which translate into children's shoes much easier than stilettos.
Women even have adapted patent leather and Mary Janes, both traditionally found in the kids' shoe market, into their own wardrobes.
"It's a lot more fun to shop for little girls so moms and girls get a little more involved," says Todd Murray, director of children's brands and licensing for Brown Shoe Company. "It's an experience to share together."
He adds: "Moms tend to make more of the decisions for boys, who are not as vocal about their opinions."
Top picks
Mary Janes continue to be the No. 1 back-to-school shoe for girls at Buster Brown, Murray reports, but they've been updated with a sportier bottom, contrast stitching and other decorative details. Black, brown and navy ones are consistently the favorites, he adds.
Dark colors play into the durability factor, says The Children's Place's Risimini-Johnson. "We will offer pink but the darker colors are more popular. Mom doesn't want to have to buy new shoes in a month because they look trashed."
One of her favorites of the season is a black leather boot with pink rhinestone buckles that she thinks will pass both the parent and kid tests. "It's real leather and has that stretch comfort factor. It also comes in camouflage, which also is hot, but the pink rhinestones makes it really girlie and stylish."
Color counts
For 10-year-old Alexandra McErlain of Wilton, Conn., her school shoe purchases are swayed by color. She's looking this season for black, silver or a sparkly pink because they'll complement the clothes in her closet. Her sister, Britt, however, wants the balance of comfort and fashion, which likely will come in the form of ballet flats. "My shoes for school can't hurt me," Britt says.
What about sneakers? "No, not sneakers for everyday. I carry them to school for gym," she says.
When the weather finally forces Paige Lester, 12, of South Salem, N.Y., out of her flip-flops, she'll put on the suede Birkenstock clogs she just bought. She's also considering ballet flats and a new pair of sneakers. "I do still get excited about back-to-school shopping," she says with a smile.
Touchy-feely
At Stride Rite, one of the key fall trends is mixing textures, such as suede, patent leather and metallics, says Rachel Panetta, marketing manager at Stride Rite. "Patent leather is no longer for a dress shoe anymore, it's used to accent sneakers and for casual shoes."
There's been a recent evolution in boys' shoes, too, moving from a dressier shoe to a Euro-influenced oxford, also with a sportier bottom and contrast stitching, Murray says. The shoes are mostly black and brown but there are hints of gray, red or orange. "It's a shoe that spans a few categories. It can be casual, sporty, but not as casual as a sneaker."
Easy-on
For younger children, alternative closures - "magic tape" (known as the trademarked Velcro to most of us), Z-strap closures and slip-ons with elastic gores - are a key element of back-to-school shoes, according to Murray. The kids can put their shoes on and take them off themselves, something they consider an accomplishment and a godsend to any parent who has several children to get out the door in the morning.
The alternative closures also keep feet squarely in their shoes and prevent children from tripping over laces.
Jennifer Smith, fashion director at Cookie magazine, thinks sneakers that look like shoes are a great selection because they make both the parents and children happy. They even get around most uniform codes that ban traditional athletic shoes.
She also always buys shoes with tread soles for her 7-year-old son. "They're good in all weather," Smith says.
Hitting the pavement
Dr. Jane Andersen, a podiatrist in Chapel Hill, N.C., likes to see kids in shoes with rubberized bottoms because they offer good traction for the gymnasium or playground.
"I think the perfect back-to-school shoe is an athletic shoe because it's stable and has a lot of shock absorption," says Andersen, a mother of a 6- and 9-year-old.
In fact, she suggests two pairs of new athletic shoes so children can alternate - especially if they have sweaty feet. (Socks made of wicking fabrics will help, she adds.)
For those confounded by fit issues, some companies are trying to make the process easier. Buster Brown offers its Toe Zone feature - a series of three bars on the bottom outsole of the shoe where the toe should be that serves as a quick fit check. The middle line is the right one.
Technology has helped with fit as well, notes Stride Rite's Panetta. "A generation ago, without research on children's walking patterns like we do today, we probably didn't know about how flexibility, comfort and breathability is so important for a child's growing foot."
To increasingly fashion-conscious children, however, it's all about the style.
"What we find talking to kids is that if it doesn't have the right look, it won't 'fit' no matter how well it fits," Murray says.
Copyright 2018 The Associated Press. All rights reserved. This material may not be published, broadcast, rewritten or redistributed. We strive to uphold our values for every story published.