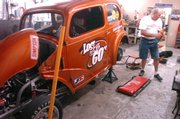 At the age of 15, Rod Urish worked on his first drag-racing car, a Ford Model A, with neighbor Donnie Elmore, learning his hobby through trial and error.
"We just fumbled our way through it," Urish said. "We made mistakes, screwed up stuff, tore stuff up, but : learned from our mistakes."
Employing a much more refined process, Urish now spends two hours a day and one full weekend day fixing up his drag-racing cars. He has modified 15 vehicles and captured about 100 racing trophies.
At his day job, the 64-year old Urish operates Don's Diesel, selling sleeves and pistons for large diesel engines and tractors out of his garage to customers in several states, including Texas and Illinois.
"The rest of it is a toy shop," he said.
His garage of toys, located next to Lawrence Municipal Airport's runway, includes a propeller airplane and go-karts - the racing vehicle of choice for his grandchildren.
He found his current project, a 1948 or 1949 Anglia previously owned by someone in New Hampshire, while surfing the Internet. Urish has bolstered the horsepower from 12 to 200, upgraded the four-cylinder engine to a V8 and installed a 90-inch wheelbase. He changed the wheels, suspension and transmission.
"Everything you see other than the tin on the car has been changed," Urish said.
During the warmer months, he races the Anglia, which has topped out at 101.5 mph on a quarter-mile track, almost every weekend.
Symbolically emblazoned on the driver's side is the slogan, "Lost in the 60's." That decade refers to the time when Urish became interested in drag racing and when the sport reached its zenith.
"In that time cars were neat," he said.
During that decade, however, Rod's father, Willis, did not provide the impetus for Rod's interest in drag racing and auto maintenance. Willis raised cattle, hogs and horses and grew soybeans and corn on a Mason City, Ill., farm.
"My dad was absolutely not mechanically inclined at all," Urish said. "I just wanted to go fast."
For Rod Urish, the need for speed has become an all-consuming hobby. He tried golf, but the sport did not provide the necessary rush or quell his competitive juices. Racing has turned into such an obsession that he warns against nursing a drink with him at any neighborhood bar.
"I don't have anything in common with (people)," he said. "I don't have a well rounded personality."
Urish, though, has worked on an array of vehicles. He said the Anglia will serve as his last drag-racing car, and his final car will have a link to his first.
"When I decided that probably getting down to the end of my career, I decided I'd build another flathead," he said. "I've always loved these Anglias."
Copyright 2018 The Lawrence Journal-World. All rights reserved. This material may not be published, broadcast, rewritten or redistributed. We strive to uphold our values for every story published.