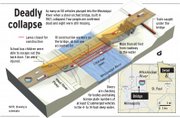 Minneapolis — Minnesota officials were warned as early as 1990 that the bridge that collapsed into the Mississippi River was "structurally deficient," yet they relied on a strategy of patchwork fixes and stepped-up inspections.
"We thought we had done all we could," state bridge engineer Dan Dorgan said not far from the mangled remains of the span. "Obviously something went terribly wrong."
Questions about the cause of the collapse and whether it could have been prevented arose Thursday as authorities shifted from rescue efforts to a grim recovery operation, searching for bodies that may be hidden beneath the river's swirling currents.
The official death count from Wednesday's rush-hour collapse stood at four, with another 79 injuries. But police said the death count would surely grow because bodies had been spotted in the water and as many as 30 people were still reported missing.
The Army Corps of Engineers lowered the river level a foot to help recovery efforts, said agency spokeswoman Shannon Bauer.
In 1990, the federal government gave the I-35W bridge a rating of "structurally deficient," citing significant corrosion in its bearings. The bridge is one of about 77,000 bridges in that category nationwide, with 1,160 in Minnesota alone.
The designation means some portions of the bridge needed to be scheduled for repair or replacement, and it was on a schedule for inspection every two years.
Dorgan said the bearings could not have been repaired without jacking up the entire deck of the bridge. Because the bearings were not sliding, inspectors concluded the corrosion was not a major issue.
During the 1990s, later inspections found fatigue cracks and corrosion in the steel around the bridge's joints. Those problems were repaired. Starting in 1993, the state said, the bridge was inspected annually instead of every other year.
Busiest in Minnesota
The eight-lane Interstate 35W bridge was Minnesota's busiest bridge, carrying 141,000 vehicles a day. It was in the midst of mostly repaving repairs when it buckled during the evening rush hour. Dozens of cars plummeted more than 60 feet into the Mississippi River, some falling on top one of another. A school bus sat on the angled concrete.
Engineers wondered whether heavy traffic might have contributed to the collapse. Studies of the bridge have raised concern about cracks caused by metal fatigue.
"I think everybody is looking at fatigue right now," said Kent Harries, an assistant professor of civil and environmental engineering in the University of Pittsburgh's School of Engineering. "This is an interstate bridge that sees a lot of truck traffic."
The collapsed bridge's last full inspection was completed June 15, 2006. The report shows previous inspectors' notations of fatigue cracks in the spans approaching the river, including one 4 feet long that was reinforced with bolted plates. A 1993 entry noted 3,000 feet of cracks in the surface of the bridge; they were later sealed.
Current slows search
At the scene, about 15 divers and a dozen boats were in the water, but the search was proceeding slowly because of strong currents and low visibility. By midafternoon, they had located four submerged cars besides the dozen or so visible from the surface.
Minneapolis Police Chief Tim Dolan said the recovery efforts had been complicated by dangerous conditions on the water. Soon after the collapse, rescue workers could talk to victims but could not reach them safely.
"We have a number of vehicles that are underneath big pieces of concrete, and we do know we have some people in those vehicles," Dolan said. "There were several individuals who were not recovered ... people that were pinned, people that were partly crushed who told emergency workers to 'say hello,' 'say goodbye' to friends and family."
Officials identified the dead as Sherry Lou Engebretsen, 60, Shoreview; Julia Blackhawk, 32, Savage; Artemio Trinidad-Mena, 29, Minneapolis, and Patrick Holmes, 36, Moundsview.
Copyright 2018 The Lawrence Journal-World. All rights reserved. This material may not be published, broadcast, rewritten or redistributed. We strive to uphold our values for every story published.