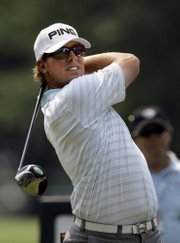 Akron, Ohio — It has reached the point where everyone expects to see his name atop the leaderboard, and he got there Thursday at the Bridgestone Invitational with five birdies in a seven-hole stretch on a course that felt like a major.
Indeed, Hunter Mahan is on a roll.
Coming off four consecutive top 10s that included his first PGA Tour victory, Mahan overcame a sloppy double bogey with a torrid stretch of birdies for a 3-under 67, giving him a share of the lead with Paul Casey and Rory Sabbatini at the Bridgestone Invitational.
That other name that has become a fixture at Firestone - Tiger Woods - didn't fare too badly, either.
Woods is a five-time winner at Firestone and going after his third straight title in this World Golf Championship. He opened with a 68 that included another memorable shot, this one a 5-wood from 245 yards in the right rough that he squeezed between two trees and just over the back of the green for a simple birdie on the par-5 second.
"Very satisfied," said Woods, who has posted a score in the 60s in the first round all 10 times he has played this course.
Copyright 2018 The Lawrence Journal-World. All rights reserved. This material may not be published, broadcast, rewritten or redistributed. We strive to uphold our values for every story published.