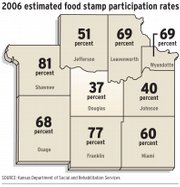 Topeka — State officials Wednesday announced new grant funding to try to find out why 100,000 Kansans who qualify for food stamps don't participate in the program.
"No Kansan should go to bed hungry," said Don Jordan, secretary of the Kansas Department of Social and Rehabilitation Services.
"This grant will help enroll eligible consumers in the food stamp program at a local level," he said.
The food stamp program provides monthly benefits, which can be used to buy food, to eligible low-income families. Nationwide, it helps feed 29 million people per month.
Estimates show that 65 percent of Kansans who qualify for the Food Stamp Program actually receive benefits. The national average is 56 percent.
Last month, 182,946 Kansans received benefits out of 283,637 who are eligible, officials said.
In Douglas County, the participation rate is 36.5 percent, the lowest of all surrounding counties and lower than many poorer, rural counties where participation lags the statewide average.
Abbie Hodgson, a spokeswoman for SRS, said that is because of the high number of college students in Lawrence, who have a low income but don't participate because they are still assisted by their parents.
Still, there are many in Douglas County who need help getting enough food, said Paul Hunt, director of human service programs at the Ballard Community Center.
The center's food pantry shelves empty quickly and have to be restocked often, he said.
"What I do see is a very large number of people who get to the end of the month, and they do receive food stamps, but it isn't enough," Hunt said.
SRS plans to provide $150,000 in grants for pilot projects to help low-income Kansans receive food stamps.
The pilot projects will focus on counties with a participation rate of less than 70 percent.
Funding for the grants comes from a "bonus" SRS received last year from the federal government for keeping its food stamp application error rate below the national average, Hodgson said.
Copyright 2018 The Lawrence Journal-World. All rights reserved. This material may not be published, broadcast, rewritten or redistributed. We strive to uphold our values for every story published.