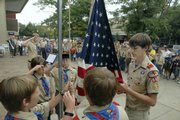 Lawrence area Boy Scouts joined their counterparts around the world Wednesday as they celebrated the 100th birthday of the Boy Scouts organization.
Dozens of Scouts from the Boy Scouts of America Pelathe District and their adult leaders gathered on the sidewalk at Ninth and Massachusetts streets for an 8 a.m. celebration. Called the "Scouting Sunrise," the event was repeated by Scouts worldwide to mark the dawn of a new century of scouting.
"Scouting has a long tradition in the Pelathe district," said Glen Sharp, district chairman and senior adult volunteer.
Before the Scouts cut into a large birthday cake, Lawrence Mayor Sue Hack commended the Scout leaders.
"Thank you for caring about our youth and their development into young men and women," she said.
The district includes 1,400 Scouts from Lawrence, Baldwin City, Eudora, Lecompton and Linwood. That includes Cub Scouts and those in the Venture program, a coed Scout program for youths 14 to 20 years old that emphasizes high adventure sports such as canoeing.
Scouting began in England in 1907 when organizer Robert Baden-Powell started teaching youths how to pitch tents, build shelters, read a compass and cook in the wilderness. By 1910, scouting had spread to the United States.
"It caught on like a wildfire," said Pat Donahue, a Scout leader, who attended the celebration dressed as Baden-Powell.
Today, there are more than 28 million Scouts in 216 countries.
The first Lawrence Scout troops were formed about 1920, Sharp said. Much has changed since then. Wilderness survival is still taught, but Scouts no longer cut trees to build lean-to shelters. They use tents almost exclusively.
"We've become a more ecologically friendly Scouting program," Sharp said. "We used to use campfires for cooking, but now because of concern about leaving no trace in the wilderness, we use liquid gas or propane gas to cook with."
Scouting programs still train men and women to be leaders, Sharp said.
"That has not changed and never will change," he said.
Missourian Gerald Vogelsang watched the ceremony while visiting relatives in Lawrence. The 78-year-old has been involved with Scouting for 58 years. As a Scout during World War II, he wore a steel helmet and a special patch that allowed him to deliver messages when cities were blacked out at night.
"You had to know your way around in the dark," he said.
Scouting hasn't lost its luster, said two Lawrence Scouts.
Christy Howard, 19, has been in the Venture program for nearly six years. She wears her Ranger badge pinned to her uniform. Earning the badge is similar to the Eagle Scout ranking and means she is an expert outdoorswoman, Sharp said.
"I love doing all the stuff my brother did," she said. "I like camping and being outside."
Camping also appeals to Reid Williams, 12, a second-year Scout.
"I like being able to do things on your own - not like having your parents hovering around you like they do in Cub Scouts," he said. "You have a lot more freedom."
Copyright 2017 The Lawrence Journal-World. All rights reserved. This material may not be published, broadcast, rewritten or redistributed. We strive to uphold our values for every story published.