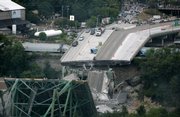 Kansas Transportation Secretary Deb Miller said Thursday that Kansas bridges are safe.
"It is safe to travel across the bridges on the state highway system in Kansas," she said.
"If we thought there was any bridge on the state highway system that carried any risk of collapse, we would close that bridge immediately," Miller said.
Miller noted that the state highway system includes about one-fifth of the bridges in the state with rest maintained by local governments or the Kansas Turnpike Authority.
As a member of the Kansas Turnpike Authority, she said the turnpike bridge in Lawrence over the Kansas River is safe, even though work starts next year on replacing it.
Miller's comments came in response to the collapsed bridge in Minneapolis over the Mississippi River. Four were reported dead although as many as 30 people were reported missing.
"We are absolutely heartsick by what we saw on the news last night," Miller said of the incident.
But, she said, the collapse wasn't prompting Kansas to step up inspections of its bridges.
She said the state has a rigorous inspection schedule of its bridges.
"Our inspections are very current," she said.
There are 26,000 bridges in Kansas and approximately 21 percent of those are considered either structurally deficient or functionally obsolete, Miller said.
Functionally obsolete usually means the bridge is more narrow than modern standards. A structurally deficient bridge doesn't mean its unsafe, she said. It means the bridge must be monitored closely.
The state highway system includes 5,000 bridges and about 10 percent of those are considered deficient, with most of those being designated functionally obsolete, she said.
Copyright 2018 The Lawrence Journal-World. All rights reserved. This material may not be published, broadcast, rewritten or redistributed. We strive to uphold our values for every story published.