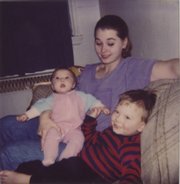 A former Lawrence resident's relatives are wondering why she was stabbed to death earlier this week in her Wyoming home.
"We don't have a lot of information," said Tareena Evans, Lawrence, of her cousin Dawnita Brandon, 32.
Brandon's husband, Timothy Brandon, 27, was charged Wednesday in Sweetwater County, Wyo., District Court with first-degree murder, a spokeswoman in the county prosecutor's office said.
Dawnita Brandon's mother, Cheryl Evans, was to have met Wednesday with prosecutors to learn more about the incident, Lawrence relatives said. She also lives in Wyoming.
Brandon moved to Wyoming six years ago to be near her mother, relatives said. She married Timothy Brandon in May 2006 and the couple lived in Rock Springs, Wyo., in the southwestern part of the state. It was her second marriage.
According to reports carried by Wyoming news media, Dawnita Brandon was found dead Monday morning in a Rock Springs apartment. After police received a call notifying them about a possible murder, a tactical team entered the apartment and found the body. Timothy Brandon was found in the apartment and was arrested.
Late Wednesday, Timothy Brandon was being held in jail on $750,000 bond. He is scheduled to have a preliminary court hearing Aug. 13. A spokeswoman in the county attorney's office said she didn't know any other details about the case.
Dawnita Brandon attended Lawrence High School but dropped out at age 16, according to her grandmother, Barbara Evans, of Lawrence. She later earned her General Educational Development certificate, Evans said.
"She had a bubbly personality," Tareena Evans said of her cousin.
Brandon had two children but they were not in the apartment at the time of the slaying, Barbara Evans said. The children - a son, Dakota 11, and a daughter, Faith, 9 - live with Brandon's mother.
"The bad thing about it, the night before (Faith's) birthday was the night Dawnita was killed," Barbara Evans said.
Copyright 2018 The Lawrence Journal-World. All rights reserved. This material may not be published, broadcast, rewritten or redistributed. We strive to uphold our values for every story published.