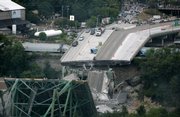 Minneapolis — An ordinary evening rush hour turned horrific Wednesday when the Interstate 35W bridge that spans the Mississippi River in Minneapolis suddenly collapsed, plunging dozens of vehicles to the water and roadways below and leaving scores of dazed commuters scrambling for their lives.
Nine people were confirmed dead, 60 were taken to hospitals and 20 people were still missing late Wednesday. Authorities said they expected the death toll to rise.
As cars plummeted into the water and crashed along the banks of the Mississippi, rescuers poured into the area in a frantic race to save people.
Between 50 and 60 vehicles were on the bridge when it went down, authorities said.
"This is a catastrophe of historic proportions for Minnesota," Gov. Tim Pawlenty said.
By late in the evening, officials said efforts at the Mississippi had switched from rescue to recovery efforts.
Jay Danz, 45, of St. Paul, Minn., was on his way to the Metrodome to watch the Twins play Kansas City and had driven under West River Parkway, beneath the interstate bridge, seconds before it collapsed.
"I heard it creaking and making all sorts of noises it shouldn't make," Danz said. "And then the bridge just started to fall apart."
In addition to the cars that went into the water, a school bus carrying about 60 Minneapolis children fell from the bridge, landing on its tires and missing the water as it came to rest near the parkway.
Several of the children and at least two adults were treated for injuries after the entire group escaped through the back door of the bus.
"Some kids had blood on their faces, but thank God everybody could move," Danz said.
Speculation on cause
The cause of the collapse wasn't known in the hours afterward. It's too soon to know what happened, said Catherine E. Wolfgram French, a civil engineering professor at the University of Minnesota.
"Things can happen with temperature, and with construction, or a lot of other confounding factors," French said.
This was a 40-year-old truss bridge, and French did say that some early truss bridges don't have as many structural redundancies - backups to carry the loads - as is now considered desirable.
On a typical weekday, more than 100,000 cars use the bridge.
Berndt Toivonen, 51, of Minneapolis, was on his way home from a painting job when the bridge collapsed beneath his car.
"The bridge started to buckle," Toivonen said. "It went up and came down. I thought I was going to die."
What people in the area of the collapse experienced or saw around 6:05 p.m. CDT unfolded as motorists crawled bumper to bumper across I-35 toward the end of rush hour.
Those on the bridge felt buckling and swaying and heard a crunching.
Then came the unthinkable: The bridge collapsed, dumping vehicles into the water and onto land below. That was followed by scenes of frantic, bloodied motorists and rescuers who converged on the scene.
No signs of terrorism
Homeland Security Secretary Michael Chertoff issued a statement Wednesday night saying there was no indication of terrorism.
About 20 construction workers employed by Progressive Contractors Inc. were about to begin night shift work on the bridge when it collapsed, company officials said.
Construction workers had been repairing the bridge's surface as part of improvements along that stretch of the interstate. There were a large number of construction workers who went into the water, said Maj. Michael Asleson of the Minnesota State Patrol.
Survivor stories
Marcelo Cruz, 26, of Crystal, Minn., who has used a wheelchair since being paralyzed in a shooting in South Carolina several years ago, was driving his van across the bridge toward downtown when he felt it began to wave up and down.
He steered into the concrete railing to stop himself from driving into the river, and saw many cars on the bridge fall into the water.
His van came to rest steeply inclined toward the river and several onlookers ran and told him to get out. He said he needed help and the onlookers carried him out of his van in his wheelchair to safety on the riverbank.
"I'm lucky to be alive," he said over and over again.
Peter Siddons, a senior vice president at Wells Fargo Home Mortgage, was heading north over the bridge toward his home in White Bear Lake, Minn., when he heard "crunching."
"I saw this rolling of the bridge," he said. "It kept collapsing, down, down, down until it got to me."
Siddons' car dropped with the bridge, and its nose rolled into the car in front of him and stopped.
He got out of his car, jumped over the crevice between the highway lanes and crawled up the steeply tilted section of bridge to land, where he jumped to the ground.
"I thought I was dead," he said. "Honestly, I honestly did. I thought it was over."
Copyright 2018 The Lawrence Journal-World. All rights reserved. This material may not be published, broadcast, rewritten or redistributed. We strive to uphold our values for every story published.