Photo Gallery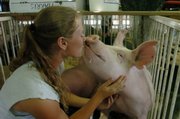 Douglas County Fair 2007, Day 3
Even though Chad gave her a kiss, 17-year-old Courtney Harris hasn't developed deep feelings for her 238-pound pink pig.
She plans to sell him at the 4-H Livestock Auction on Sunday.
"He cooperates and behaves," the Baldwin High School senior said while shearing him for Wednesday night's show at the Douglas County Fair. Chad isn't like her 269-pound pink pig named Susie who tends to have a mean streak.
She bought the pigs in April and soon will say goodbye. While Chad's fate is a little uncertain, Harris said Susie will fill the family's freezer.
"Most people want ham in the fridge," she said.
Such is life as a 4-H'er. There are 762 animals at the fair this year and they have been tamed, petted, bathed and trimmed.
Jared Fangman, 10, of rural Lawrence, has been working with a sheep named Sharp Eye since he was purchased in April. After spending the past several months taking care of him, Fangman said he would miss him "a little" when he is sold at the auction.
"He's the best lamb that I've had," he said. "Well, except for Arrowhead." That was his sheep last year. His older brother, Simon Fangman, 13, was showing three sheep at the fair.
"They're just livestock," he said of the nameless animals that he plans to show at the state fair in Hutchinson.
But some 4-H'ers admit their fair entries are like pets.
Twelve-year-old Emory Hubbell, who has been showing chickens at the fair for three years, picked 12 to show this year; another 12 remained at home. He was all smiles and giving high-fives Tuesday after his Rhode Island Red won a top ribbon. Although he didn't give his chickens names, Hubbell said, "Of course, I am attached to them. I feed them every day."
Back in the pig barn, 18-year-old Amber Laughlin, of Baldwin City, said she enjoys her black-and-white, 241-pound 4-H project named Chewy.
"She's kind of like a dog," she said about her pig who chews and plays with a plastic basketball. Laughlin purchased the pig in February from an Ottawa farmer and has taken care of her since.
"It's going to be pretty sad," she said of saying goodbye Sunday during the livestock auction.
Laughlin hopes she can talk one of her friends into buying her. "That way I know she will go to a good home."
Copyright 2017 The Lawrence Journal-World. All rights reserved. This material may not be published, broadcast, rewritten or redistributed. We strive to uphold our values for every story published.