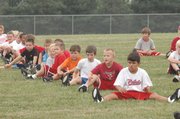 They filtered in from all directions at around 6 p.m. on Tuesday filling the quiet fields of Sunflower Elementary's playground with the familiar sounds of kids happy to be outdoors.
Friends were re-united, stories were traded and all were there for a single purpose - it was time to play football.
"I'm ready," 11-year-old Tristan Garber said. "I'm ready to play and put on the pads."
Garber along with over 60 players gathered at the playground to take part in the first practice of the Lawrence Youth Football Gorillas. Tuesday's practice was an all inclusive affair as players from second grade shared the field with those in the sixth grade. Each group broke off into grade levels to begin the drills portion of the practice.
The gathering signaled the start of the new season for teams and the league.
Within the coming weeks, many teams from Hurricanes to Chops will inch closer to putting on the pads and the number of players on those teams should only get bigger.
"I think we're doing all right," said LYF director Bret Toelkes. "I expect that were going to fill out our numbers. It's pretty exciting."
The league wrapped up its first wave of registration over the course of the last few weeks and will make a similar push tonight and Saturday.
As for those players already on the field, many of them have come to the gridiron straight from the baseball diamond.
Gavin Greenwood, 8, played for the Douglas County Amateur Baseball Association Cougars over the summer and is excited about the change.
"Baseball was fun," Greenwood said, "but I'm ready to put on the pads."
Players such as Garber have had less time to prepare for the transition. He played baseball for the traveling Lawrence Outlaws. That last finish to some players' baseball season was one reason why many teams have delayed the start of practice.
"Some of them come in (to register) bleary-eyed," Toelkes said. "So that's one of the reasons we're going to give some them a little time to rest."
This year's LYF schedule will look relatively similar to those of years past, but with a few exceptions.
Baldwin's Bulldogs have opted to move from the LYF to a league in Basehor and the schedule will feature some interleague play with the Northeast Kansas Football League.
There will also be a Labor Day tournament at Youth Sports Inc. featuring LYF teams as well as teams from out of town.
"We're looking forward to the new season," Toelkes said. "It's going to be a good experience for everyone."
Lawrence Youth Football will hold two more days of registration for those interested. The first is at 7 p.m. tonight, while the second is at 10 a.m. Saturday. Both registrations will be held at Youth Sports Inc.
Copyright 2018 The Lawrence Journal-World. All rights reserved. This material may not be published, broadcast, rewritten or redistributed. We strive to uphold our values for every story published.