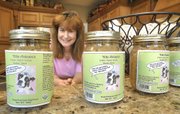 Jackson, Mo. — The recent pet food recall did not shock Victoria McDowell. For years she's been telling people they need to change their pet's diet.
"People respond that they've had healthy pets all their lives," she said. "I ask them, 'Are you sure? Do you think they've died of natural causes?'"
McDowell runs an organic pet food company called Miss Autumn's Barkery out of her home in Jackson. She is willing to come up with a recipe specifically devised for a customer's pet's dietary needs. She also has made an arrangement with a human-grade pet food plant in Wheeling, Ill., that will ship larger quantities around the world.
The organic pet food is about $3 for 13 ounces right now, but if interest persists, the price likely will go down.
"People need to be reassured they don't have to rely on these big pet food chains because that's all there is. It's simply not true," said McDowell, who studied veterinary medicine in college and is a certified thoroughbred horse breeder. "All these pet foods are being taken off the shelves, but not ours."
Pet's death
The idea of McDowell's business began about five years ago when her English Staffordshire terrier had a rare form of cancer. The tumor doubled in size, and the pet couldn't be saved. McDowell told her veterinarian she had been feeding the dog a prescription diet. The vet told her to research every ingredient in dog food because one of them may have caused the cancer. McDowell read about pesticides, chemicals like bleach and rendered animal remains from dogs, cats, horses and cattle in a book by Ann N. Martin called "Food Pets Die For: Shocking Facts About Pet Food" and was appalled, she said.
Martin said pet food recalls happen once or twice a year; the latest is just one of the bigger ones.
"As far as the deaths of the dogs and cats, we're just seeing the tip of the iceberg," she said. "I think it's going to amount in the hundreds, anyway." She is writing a series of books about pet food; the third book is coming out this fall.
Martin inspired McDowell to consult with animal experts and create the formula she sells today. McDowell imports her ingredients from Italy, Costa Rica and local organic farms.
"It's not dog food. It's people food made for dogs," she said. "It doesn't smell like dog food. We don't make anything that people can't eat." She uses ingredients like yogurt, eggs, chicken broth, peas, carrots and brown rice.
Cornell University's College of Veterinary Medicine is one of several laboratories studying the pet food recall. No toxins that explain the renal failure that killed and sickened pets have been discovered at this point, according to university spokeswoman Sabina Lee.
"Our scientists are just trying to help out by doing diagnostic testing of food samples and tissue of diseased animals to identify the cause of illnesses of these pets," she said.
'Safest in the world'
According to Dr. Brett Ward of Cape Small Animal Clinic, one or two clients called expressing concerns that they fed their animals the recalled food, but he hasn't seen any kidney problems.
"Pet food in America and human food are pretty much the safest in the world," he said. "This is just a heads-up that we should test more frequently."
Dr. Paula Mohan of Heartland Veterinary Care in Jackson said she's suspicious about one cat that came in, but nothing has been confirmed. "The volume of different pet food and labels that have been recalled does surprise me," she said.
According to Dr. Wanda Pipkin of Deer Ridge Animal Hospital in Jackson, kidney failure occurred in a cat, but the cause was undetermined.
Pet food affected by recalls includes "cuts and gravy" and some dry food and treats.
McDowell is working on a recipe for cat food and already has treats available. She's also in talks with some banks in hopes of building a plant in southeast Missouri.
Cape Girardeau Area Magnet executive director Mitch Robinson said he's been working with McDowell as she seeks funding for equipment and a location.
"The potential is pretty unlimited right now, especially with what's happened in the industry," he said. "Timing is everything. Hopefully she could take advantage of what's happening."
Copyright 2013 The Lawrence Journal-World. All rights reserved. This material may not be published, broadcast, rewritten or redistributed. We strive to uphold our values for every story published.