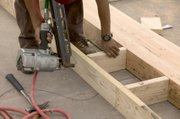 Doctors in the nation's emergency rooms are used to seeing so-called bagel cuts - the injury that results from slicing a finger or palm instead of a bagel and is most common on weekends.
Now North Carolina researchers report that ER physicians are increasingly treating another kind of painful household injury: wounds inflicted by pneumatic nail guns wielded by weekend carpenters who bought the machines at home improvement stores.
Such accidents more than tripled between 1991 and 2005, the researchers found, and 96 percent of victims were males whose average age was 35. In 1991, about 4,200 nail gun injuries among consumers were reported, compared with about 14,800 in 2005.
Hester Lipscomb, lead author of the analysis published in the April 13 issue of the Morbidity and Mortality Weekly Report by the Centers for Disease Control and Prevention, attributed the increase in injuries to the widespread availability of the pneumatic tools, which use an air compressor to forcefully drive nails into wood.
Lipscomb, an associate professor of occupational and environmental medicine at Duke University Medical Center, said that the design of some guns, which allow the user to rapidly "bounce fire" nails, is also a factor. Untrained weekend carpenters who may not know how to use the devices properly are especially vulnerable to injury, she said.
Although consumer nail gun injuries have sharply increased since the early 1990s, mishaps involving construction workers during the same period stayed relatively stable. Most nail gun accidents, the authors report, involve puncture wounds to the hands and forearms, although eye injuries, broken bones and nerve damage have also been reported. Six percent of victims required hospitalization.
Because many consumers never receive training in the use of the powerful guns, the authors advise them to buy machines with a sequential trip trigger, which prevents accidental or uncontrolled firing. Some stores sell kits that can convert guns with other mechanisms to this type, which the authors say is safer.
Copyright 2018 The Lawrence Journal-World. All rights reserved. This material may not be published, broadcast, rewritten or redistributed. We strive to uphold our values for every story published.