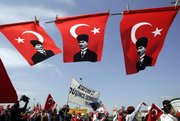 Istanbul, Turkey — At least 700,000 people marched Sunday in a massive protest against the possible election of an observant Muslim as president, a conflict that is pitting Turkey's religiously oriented ruling party against the deeply secular military and civilian establishment.
Waving the country's red flag and singing nationalist songs, demonstrators in Istanbul demanded the resignation of the pro-Islamic government, calling Prime Minister Recep Tayyip Erdogan a traitor. Erdogan's foreign minister, Abdullah Gul, is widely expected to win the presidential election by the country's 550-seat parliament.
"We don't want a covered woman in Ataturk's presidential palace," protester Ayse Bari, a 67-year-old housewife, said in reference to Gul's wife Hayrunisaah who wears the Muslim headscarf. "We want civilized, modern people there."
The election has reignited a conflict over Turkey's national identity that has brewed since Mustafa Kemal Ataturk, an army officer in World War I, founded the secular republic after the collapse of the Ottoman Empire. He gave the vote to women, restricted Islamic dress and replaced the Arabic script with the Roman alphabet.
But Islam remained potent at the grass-roots level, and some leaders with a religious background have portrayed themselves as an alternative to the secular establishment.
Many, including powerful generals, fear Gul would use the presidency - a post with veto power over legislation - to assist his ally, Erdogan, in chipping away at the separation of state and religion. For example, secularists want to preserve a ban on Islamic headscarves in government offices and other public places; Gul's wife once appealed to the European Court of Human Rights for the right to wear the scarf to a university.
The military hinted it may step in to resolve the deadlock over Gul in parliament. And many Turks are calling for early elections in the hope of replacing the parliament, which is dominated by Gul's pro-Islamic ruling party.
"Turkey is secular and will remain secular!" shouted thousands of protesters, many of whom traveled to Istanbul from across the country overnight.
Turkish police estimated their numbers at about 700,000 and cordoned off the protest area, conducting searches at several entry points.
Copyright 2018 The Associated Press. All rights reserved. This material may not be published, broadcast, rewritten or redistributed. We strive to uphold our values for every story published.