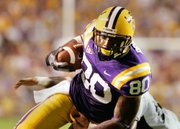 Kansas City, Mo. — Big and tough is how the Kansas City Chiefs describe Dwayne Bowe, the wide receiver from LSU they took Saturday in the first round of the NFL draft.
A 6-foot-2, 221-pounder who caught a school-record 12 touchdown passes his senior season, Bowe should compete immediately to crack the starting lineup.
"He's a big, strong, physical wide receiver," general manager Carl Peterson said. "This is a player we have researched, I think, as thoroughly as we possibly could."
Bowe led the Tigers with 65 receptions for 990 yards and is an accomplished blocker.
"Certainly there was a consensus among everyone here that he can help this football team and help it very, very quickly," Peterson said.
The Chiefs' second-round pick was influenced at least in part by the four-game suspension facing defensive end Jared Allen for DUI convictions. With the 54th pick overall, Kansas City took versatile defensive lineman Claude "Turk" McBride, a 278-pounder from Tennessee who played both inside and outside.
Then after going with a Turk in the second round, they went for a Tank in the third. DeMarcus "Tank" Tyler, a 6-foot-2, 306-pound defensive tackle from North Carolina State, will compete for a job on the inside of the defensive line.
Bowe, a first-team all-SEC selection, sounds like he expects to start right away.
"I'm intimidating, and when I'm on the field, everybody knows that I'm going to work whether it is catching, blocking or running," he said. "Whatever it takes to win, that's what I add to the team. Most people look at me as a big, dominating blocker who can catch the ball and do something with it. I see myself as an all-around receiver."
The Chiefs haven't had a wide receiver be their leading pass-catcher since Andre Rison in 1997. Their top receiver the past several years has been Eddie Kennison, who had 53 catches for 860 yards and five touchdowns last year but turned 34 in January.
"Eddie Kennison is an excellent wide receiver and been with us a long time," Peterson said. "But we have to look at where he is in his career."
Kansas City's No. 2 wide receiver, Samie Parker, was taken in the fourth round in 2004 but has been a disappointment. He made 15 starts last year and had 41 catches for 561 yards and one touchdown.
Also in the wide receiver mix for the upcoming season will be Jeff Webb, drafted last year in the sixth round, and second-year man Chris Hannon.
Dante Hall, the Chiefs' No. 3 wide receiver last year, was traded to St. Louis last week for a fifth-round draft pick.
"Now we've become very, very competitive at the wide receiver position, and we need to do that," Edwards said. "One guy's not going to tackle (Bowe). When he's on the field, you have a sense of his energy. I think you need that at the receiver position."
If Cleveland had not worked out a last-minute deal to take Dallas' pick just ahead of Kansas City's, the day may have taken a different turn.
The Browns, using Dallas' slot at No. 22, took Notre Dame quarterback Brady Quinn.
Peterson and Edwards both smiled slyly when asked if they would have grabbed Quinn, who had been expected to go much earlier in the first round.
"It was definitely discussed. We talked with Cleveland," said Peterson.
Said Edwards, "That was probably the longest (time) between our pick and the four picks above us I've ever been in the draft."
McBride will get a chance to start right away also, especially with Allen gone the first four games.
"He's in the rotation right now. He has the ability at this point, with our situation at the ends for the first month of football, this guy could be the starting end," Edwards said.
"Obviously, we're going to miss Jared Allen for the first month. We know that. This helps us."
Peterson said not to be deceived by the fact he started only 17 games in his Tennessee career.
"This guy played a lot of football for Tennessee. He just wasn't a starter," Peterson said. "They had some other pretty good people there. He's played a lot of football."
Tyler was suspended for a game this past season for spitting on an official during a game against Boston College. The previous summer, he was charged with misdemeanor assault of a police officer, which was later reduced to disorderly conduct.
He said the incidents have helped him turn his life around.
"I think I've matured greatly before then, but a couple of days after that, I really took a real turn in my life as far as people I hang around, how I view things," he said.
Peterson said the Chiefs were convinced that was true.
"The explanation was understandable. Tank did suffer some consequences. But from a legal aspect, all of that has been cleared up. It is something we needed to look at it, and we did. At the end of the day, he will be better for it."
Copyright 2017 The Associated Press. All rights reserved. This material may not be published, broadcast, rewritten or redistributed. We strive to uphold our values for every story published.