Hear Marie Rubis Bauer play portions of two songs by Dieterich Buxtehude on the organ at KU's Bales Organ Recital Hall.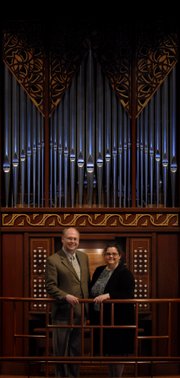 Past Event
When: Monday, April 30, 2007, 7 p.m.
Where: Bales Organ Recital Hall, 1600 Stewart Drive, Lawrence
Cost: Free
-->
-->
Marie Rubis Bauer jokes that when many people hear the name Dieterich Buxtehude, their response is, "Buxte-WHO-de?"
That might be because little is known about Buxtehude's life. It also might be because he's overshadowed by another Baroque German composer named Johann Sebastian Bach.
So Bauer and her husband, Michael Bauer, have decided to use their organ-playing skills to spread the word about Buxtehude to commemorate the 300th anniversary of his death.
"One of the misconceptions is Buxtehude is seen in relation to Bach," Michael Bauer says. "Many people see Bach as the culmination of the Baroque tradition. But I think it's really more accurate to say Buxtehude is the culmination, and Bach is another tradition."
Marie Rubis Bauer, a part-time Lawrence resident and director of music at St. Cecilia's Cathedral in Omaha, Neb., and her husband, an organ professor at Kansas University, will present a series of eight recitals over the next two years to honor Buxtehude. The first concert is at 7:30 p.m. Monday at KU's Bales Organ Recital Hall.
Buxtehude spent most of his professional career at Lübeck, near Lawrence's German sister city of Eutin. He was known for an evening concert series that drew audiences from the region.
Today, he might be best known for his relationship with Bach, who walked the 280 miles from Arnstadt to work with Buxtehude. He was so impressed that he overstayed his leave of absence from his job by three months.
"Buxtehude was such an importance influence on (Bach) he wanted to stay and soak up what he could," Michael Bauer says.
Today, the music attributed to Buxtehude is all from copies. None of his original scores - if there were any - exist. In some ways, Michael Bauer says, that fits the style of music.
"It's a combination of freedom and strict writing that's really compelling, and different from Bach," he says. "There's more freedom on the writing of Buxtehude than Bach."
Copyright 2018 The Lawrence Journal-World. All rights reserved. This material may not be published, broadcast, rewritten or redistributed. We strive to uphold our values for every story published.