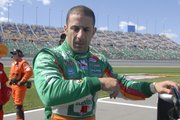 Kansas City, Kan. — IRL IndyCar Series driver Tony Kanaan has always had success at Kansas Speedway, finishing in the top five in the five races at Kansas, and Saturday qualifying for today's Kansas Lottery Indy 300 was no different.
Kanaan brought an end to his drought of 29 races without the pole spanning nearly two years.
"Wow, that's a long time," said Kanaan, who last sat in the pole position at the Indianapolis 500 in 2005. "It's a great feeling, especially on this type of track that we struggled on last year. Did we expect to be better? Yes. Did we expect to be on the pole? No. But it's a good feeling."
The feelings will be anything but good when the 2004 IndyCar champ looks in his mirror on race day.
Kanaan will see three of the last four IndyCar champions - Sam Hornish Jr. (2006), Dan Wheldon (2005) and Scott Dixon (2003) - in the top five along with Helio Castroneves, a two-time Indy 500 winner.
"In this series, you can never be that greedy thinking you're going to win the race starting from the pole," Kanaan said. "It's a better starting position than last year. I had to pass close to seven cars in the first lap last year at Kansas. So I guess I won't have to pass any this year, people will be trying to pass me."
Dario Franchitti, who has four career wins in the series, rounds out the first three rows.
With the fact that only one pole sitter has finished first - Buddy Rice in 2004 - the favorite to win the race may be Hornish out of the second position.
"We started second here last year and won the race, so maybe it's a good omen we're starting second," Hornish said. "Anyone in the top 10 can work their way through the traffic if you have a good-handling car."
With the strong field at the front, fans should be in for a treat at one of the most competitive tracks in Indy racing. Kansas Speedway was the site of the second closest 1-2-3 finish in IndyCar Series history - a 0.0242 margin of victory by Kanaan over Wheldon and Vitor Meira in 2005.
"I think the race is going to be tight," said Wheldon, the current points leader. "We definitely have the ability to be very quick, but I don't think we have it right just yet, and we will need to improve that tomorrow."
¢ Duno downer: Milka Duno's first time qualifying for an IndyCar event was a disappointing one as she will be the last car in line with her time of 26.2754 seconds (208.256 mph).
"It was a little frustrating because I was right there at the top of what the car could do in its present setup ... but we're missing a few aerodynamic updates on the car that we just haven't received yet that will ultimately reduce some drag and make the car more slippery," Duno said. "If we'd have had them our time would have been much better, and so I'm really looking forward to see what we can do once we have the car just the way we'd like it."
Danica Patrick's time of 25.8362 seconds (211.796 mph) was the best of the three female drivers, and she will start in the 10th position. Sarah Fisher finished qualifying in 17th with her time of 25.9889 seconds (210.551).
The worst starting position for an IndyCar winner at Kansas Speedway was in the 11th-place spot by Bryan Herta in 2003.
¢ Pancho pitching in: IndyCar veteran Pancho Carter, who has spotted and acted as driver coach for many drivers, is playing the same role for first-time series driver Duno today.
"I was here for the (rookie) test, worked with her on her line, the fast line, what happens during the race as far as people passing her, what you need to do if you're going to overtake a car," Carter said. "Just trying to bring her up to speed a bit faster and guide her in the right direction and give her some insight in how she can improve her performance."
Carter has coached some very successful drivers, including the defending IndyCar Series points champion Hornish.
"Pancho's been through all those experiences," said Hornish, who has won three IndyCar championships. "If I had to do it over again and would've had the opportunity to work with Pancho right off the bat, I think I probably would've won a couple more races."
Copyright 2018 The Lawrence Journal-World. All rights reserved. This material may not be published, broadcast, rewritten or redistributed. We strive to uphold our values for every story published.