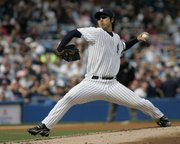 New York — Kei Igawa came out of the bullpen and saved the slumping Yankees when they desperately needed him.
Igawa shut out Boston for six-plus innings after replacing injured starter Jeff Karstens in the first, and New York snapped a seven-game losing streak with a 3-1 victory Saturday.
"See, you can't keep ripping our bullpen," manager Joe Torre said with a touch of sarcasm. "This is a huge win for us. We needed a close game to win. We needed a number of people to do a job, and they did."
Jorge Posada hit a two-run homer off knuckleballer Tim Wakefield (2-3) and Mariano Rivera earned his first save to help the Yankees avoid their first eight-game skid since August 1995.
The slump had owner George Steinbrenner seething in Florida and it raised questions about Torre's job security. But the Yankees (9-13) got what they needed - a well-pitched game, even though they lost yet another starter to injury.
"Hopefully, today will be the day that we turn it around," Jason Giambi said.
Karstens, hit by Julio Lugo's line drive on his first pitch, has a broken right leg. He won't need surgery and is expected to return this season, team physician Dr. Stuart Hershon said.
"We're lucky it didn't hit pure bone," Torre said. "It could've been much worse."
Swept at Fenway Park last weekend, New York improved to 1-4 this year against its longtime rival and can win the series today with ace Chien-Ming Wang on the mound. Julian Tavarez pitches for the Red Sox.
Rivera, who entered with an uncharacteristic 12.15 ERA in eight appearances, worked a scoreless ninth for his first save in three chances. One of his blown saves came in the series opener at Fenway.
"Today was different. The ball was moving from the first pitch," Rivera said.
Igawa (2-1) left with two on in the seventh to a standing ovation from the sellout crowd of 55,026. The Yankees spent $46 million to bring him over from Japan in the offseason, but the left-hander was skipped in the rotation this weekend after flopping in his most recent start Monday night at Tampa Bay. He was sent to the bullpen to work on his mechanics with pitching coach Ron Guidry.
"When he made the effort the other day to throw in the 'pen, there was a different look in his eye," Guidry said. "This game right here is big for him. I was very proud of the way that he pitched today."
Twins 11, Tigers 3
Detroit - Justin Morneau homered, and the Minnesota Twins roughed up Justin Verlander.
Morneau had three hits and scored three times for the Twins, who reached base 23 times - 17 hits, five walks and a hit by pitch - against five Tigers pitchers. Every player in their lineup had at least one hit, and six had at least two.
Orioles 7, Indians 4
Cleveland - A bizarre set of circumstances in Baltimore's victory over Cleveland led to a run that was waved off in the third inning added to the Orioles' total three innings later.
Baltimore was leading 2-1 in the top of the third with Nick Markakis on third base and Miguel Tejada on first and one out. Ramon Hernandez then hit a line drive to center field and Grady Sizemore made a diving catch. Markakis tagged up and headed for home. Tejada was around second when the ball was caught and was thrown out trying to get back to first.
It appeared Markakis crossed the plate well before Tejada was called out at first, but plate umpire Marvin Hudson waved off the run.
The umpiring crew conferred separately with Baltimore manager Sam Perlozzo and Cleveland manager Eric Wedge twice after the top of the third. After the Indians scored a run in the fifth to tie it at 2, it was announced in the bottom of the sixth that the Orioles' run in the third counted, giving Baltimore a 3-2 lead. The Indians then announced they were playing the game under protest.
Athletics 12, Devil Rays 5
Oakland, Calif. - Travis Buck hit a three-run homer in Oakland's six-run first and Eric Chavez had a three-run drive in the seventh.
Angels 3, White Sox 0
Chicago - Jered Weaver pitched 52â3 innings for his first win of the season, and Gary Matthews Jr. led off the game with a home run for Los Angeles.
Rangers 9, Blue Jays 8 (10)
Toronto - Hank Blalock atoned for an earlier error with a sacrifice fly in the 10th inning to lift Texas to the win.
Copyright 2018 The Associated Press. All rights reserved. This material may not be published, broadcast, rewritten or redistributed. We strive to uphold our values for every story published.