As she took the mound in the seventh inning, Kassie Humphreys stared down the heart of the lineup for Oklahoma, which entered Saturday's game ranked first in the Big 12 Conference in team batting.
"I get a little of the seventh-inning jitters," Humphreys said. "I just thought about not walking anybody and getting the first hitter, and once we got the first out, I relaxed a lot."
Although Humphreys admitted feeling nervous, Kansas University's 2-0 blanking of No. 3 Oklahoma suggested she felt calm all afternoon at Arrocha Ballpark. The senior pitcher threw a complete game, gave up two hits and struck out six.
Humphreys also didn't allow any free passes. In her last start, the senior pitcher walked eight Nebraska batters.
"She shut down the walks, she had command of her curveball and screwball, and she was keeping it down in the zone," KU coach Tracy Bunge said. "She didn't miss out over the plate and she didn't miss up. She had total command and was in total control of herself the entire seven innings."
Humphreys had so much command she made OU hitters look like they were swinging in slow motion in an attempt to hit off-speed deliveries.
In the second inning, OU's Susan Ogden swung so far ahead of a curveball for strike two that Humphreys blew a fastball by Ogden on the next pitch to record the strikeout.
It's not like Ogden never makes contact with the ball, either. The OU catcher was hitting .420 entering Saturday. Aside from Ogden, the Sooners had two other players - leadoff speedster Norrelle Dickson and Samantha Ricketts - hitting higher than .400 for the season. The trio went a combined 1-for-9 Saturday.
"She didn't give anything out over the plate to where she could make solid contact and put the ball in play, because Dickson can run," Bunge said. "If she puts the ball in play, she'll usually beat out 75 percent of it."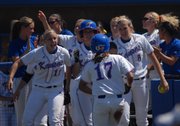 Kansas capitalized on two uncharacteristic OU errors in the third inning to produce its runs.
KU leadoff hitter Dougie McCaulley, who went 2-for-3 with a run, singled up the middle and moved third baseman Val Chapple to third base. Oklahoma launched the relay above the catcher Ogden, allowing Chapple to dart home and slide in for the game's first run.
Freshman Amanda Jobe then ripped a single down the first-base line, knocking in the second and final run of the game.
"Coach has been telling us to get the ball in play and make things happen," Jobe said. "I was just trying to get a good pitch to hit. The pitch was just middle-in, looked good and it worked out for me."
Kansas (32-18-1 overall, 7-8 Big 12) became the first team in the Big 12 this season to shut out Oklahoma (48-6 overall, 13-4 Big 12). The Jayhawks have now won five straight games.
"We're really trying to get a spot in the postseason," Humphreys said. "I know we're not going to win the regular season. There's a possibility we could win the Big 12 Tournament, but we really want to put those wins on the board that will make the committee think of us. That's what this meant to us - postseason."
Kansas will have its Senior Day when it plays host to Oklahoma at 1 p.m. today for the final game of the series.
Copyright 2018 The Lawrence Journal-World. All rights reserved. This material may not be published, broadcast, rewritten or redistributed. We strive to uphold our values for every story published.