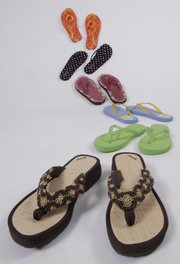 Every year, spring brings the same things: green grass, dew-glazed windshields and the unmistakable sound of rubber slapping against heels. Not just footwear for the beach anymore, flip-flops have become standard elements of the shoe rack.
"I just don't like wearing socks and tennis shoes if it's warm enough," says Emily Baucom, a Kansas University senior.
Baucom owns about 20 pairs of flip-flops, and she wears them as much as she can - as long as it's not snowing. She follows a strict tradition for breaking in each new pair: Sometimes they'll rub her feet raw, but after a week, the redness subsides and comfort follows.
Marathon runner Nat Collins, KU senior, always looks forward to slipping into a pair of the cushy, breathable sandals after running 26 miles. Aside from running shoes, he prefers to wear flip-flops because they're easy to wear. He admits that he'll even sport them in frigid conditions.
"You can just throw them on in the morning, and you're ready to go in about four minutes," Collins says.
Before the risque panties stole their name, some referred to flip-flops as thongs. Whatever you call them, stores like Shark's Surf Shop, 813 Mass., carry the shoes year-round.
"I wear them with nice clothes, I wear them to meetings, I wear them to work," says Alexis Hallman, a KU alumna and youth director at the Temple Congregation B'nai Jehudah in Overland Park.
She has a pair of Teva flip-flops with three straps instead of two. She loves them because the foam bottoms give her comfort.
"I like that they don't have laces," Hallman says.
Despite their popularity, etiquette experts aren't sure that flip-flops - once used mostly as a barrier between feet and the funk lurking on the shower floor - pass in more formal settings. Members of the 2005 women's lacrosse team from Northwestern University were nationally scrutinized after wearing sandals to the White House.
It's a good idea to consider when and where baring your toes is appropriate, experts says. Flip-flops may be worn in different settings, but most offices frown upon them, says Lizzie Post, great-great-granddaughter of famous etiquette expert Emily Post and author of "How Do You Work This Life Thing? Advice for the Newly Independent on Roommates, Jobs, Sex and Everything That Counts."
"I've heard of offices restricting them because they're annoying," Post says.
Both Baucom and Hallman recommend Teva sandals, and Corey Jackson, sales associate at Shark's, says Reefs are the best-sellers at the store.
"The Tevas are actually comfortable because they have arch support," Baucom says.
Tevas and Reefs run between $20 to $30 for basic styles. If you're headed to the shore and don't want to drag a cooler along, Reef makes "Dram Sandals" with a canteen in the heel, which sell for around $45.
If you've padded your gaudy sandal budget for the summer, Stuart Weitzman makes a pair of jelly flip-flops, designed with Swarovski crystals, that retail for $135. But you can also grab a pair of thongs for the price of a soda at most discount stores.
So don't be afraid to show some toe this summer. You're feet could probably use the fresh air, and just think of all the time you could save not tying your shoes. Just be wary of where you're headed; not everyone will flip over your flops.
Copyright 2018 The Lawrence Journal-World. All rights reserved. This material may not be published, broadcast, rewritten or redistributed. We strive to uphold our values for every story published.