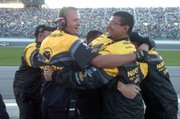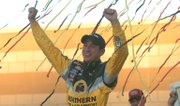 Kansas City, Kan. — Erik Darnell spent a lot of time viewing the rears of vehicles this weekend at Kansas Speedway, having raced in the ARCA RE/MAX series race Friday before competing in the NASCAR Craftsman Truck Series race Saturday.
So it was only fair that competitors had to look at the bumper of his truck on his way to winning the O'Reilly Auto Parts 250 by 10.44 seconds.
"His tailgate looked really good," joked second-place finisher Rick Crawford following the race. "That's all I was seeing, was the tailgate.
"He had an eight-foot bed, and it never had to be made. That's all I was seeing."
Darnell's qualifying time put him in the 10th position, but the race winner would start at the tail end of the field due to unapproved impound adjustments following qualifying.
However, once he made it through the field he wound up leading 92 of the 167 laps.
"It makes my job a lot easier when those guys give me a piece like that," said Darnell, following his first career win. "For me, I was holding the steering wheel - that's about all I had to do."
Though he lost the lead late in the ARCA race and finished 0.863 seconds back, the race turned out to be an advantage - especially considering Friday afternoon's Craftsman Truck practice was canceled due to rain.
"First of all, I think all of the laps I got yesterday in the ARCA race helped me out today just because I was able to get a feel for what the truck was going to do later in the afternoon," said the reigning Craftsman Truck Rookie of the Year. "It also let us get a feel for what the track was going to do as far as the second groove coming in.
"It was disappointing not to win yesterday. We just weren't where we needed to be. But with the truck tonight, we were spot-on and I think it showed."
In post-race interviews, third-place finisher Jack Sprague spoke wholeheartedly about Darnell finally getting win number one.
"He's way beyond his years," Sprague said. "He doesn't touch you, he doesn't wreck you to win - he could have wrecked me to win twice (this season). I just have a ton of respect for that kid and I knew he was going to do it and I'm happy for him."
¢ Rookie remembers VT: The rookie crew of Aaron Fike showed some veteran class when crew chief Jamie Jones thought to race with the Virginia Tech logo sprawled across of the hood of their truck.
Jones, who is from Virginia Beach, also had each of his crew members wear a VT hat to honor the faculty and students who lost their lives on the campus of Virginia Tech.
"NASCAR is a big family, and when something like this happens we all come together," Rick Crawford said. "It shows the support for the students, the faculty and the families of the tragedy."
Fike qualified 12th in his fifth career start in the series and was the top rookie finisher at eighth overall, leading six laps. Heading into the race Fike was 10th in driver points and leading the 2007 Raybestos Rookie of the Year Standings.
¢ Skinner's streak stops: Sitting in the pole position to start the race, it looked like Mike Skinner would have a good chance at becoming the first driver to win four consecutive races.
However, Skinner settled for fifth place after leading 58 of 167 laps, but maintains his lead in the driver points standings.
Copyright 2018 The Lawrence Journal-World. All rights reserved. This material may not be published, broadcast, rewritten or redistributed. We strive to uphold our values for every story published.