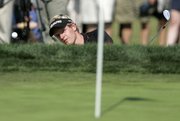 Irving, Texas — Luke Donald barely held onto the lead at the Byron Nelson Championship.
After a bogey at No. 17, Donald made a par-saving putt on the closing hole Saturday to finish his 11th straight under-par round in the Nelson, a 3-under 67 that put him at 10-under 200 with a one-stroke lead over Scott Verplank going into the final round.
Donald, finally leading the Nelson after all his subpar rounds in the event, had consecutive bogeys early to fall behind by two strokes. The Englishman recovered with five birdies in a 10-hole stretch that were enough to put him back ahead.
Verplank (66) grew up in the Dallas area and first met Byron Nelson as a teenager. Now in his 21st Nelson, the 43-year-old Verplank will play in the final group today with a chance to finally win it - in the first Nelson tournament played without its namesake.
Play was stopped midway through the round for a moment of silence in honor of Nelson that was followed by a flyover by a squadron of fighter jets. It was the first time the PGA Tour ever had such a stoppage during a tournament.
Nelson, who in 1968 became the first golfer to have a PGA Tour event named after him, died Sept. 26. He was 94.
Michael Allen, the 48-year-old journeyman who got into the Nelson by surviving a playoff in a qualifying event Monday, was alone in third at 8 under after his bogey-free 64. Ian Poulter (65) was 6 under.
Phil Mickelson (66) and Vijay Singh (69), the only top-10 players in the world playing this week, were in a group at 5 under with Ken Duke (64), Ryuji Imada (67) and Fredrik Jacobson (71).
Copyright 2018 The Associated Press. All rights reserved. This material may not be published, broadcast, rewritten or redistributed. We strive to uphold our values for every story published.