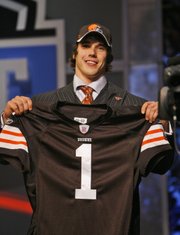 It is interesting and telling that the Miami Dolphins can't even get the easiest day in the sport right with their fans. They selected an exciting blur with their first pick of the National Football League draft Saturday, a lightning bolt of a wide receiver from Ohio State named Ted Ginn Jr., but the selection was not met with the customary hope a team can usually expect on this day.
Why? Because the Dolphins did on this Saturday what they haven't been able to do on Sundays since Dan Marino retired.
They passed.
They passed on Brady Quinn, the second-best quarterback in the draft who surprisingly plummeted to their spot, the ninth overall selection. Quinn is supposed to be as golden as the helmet he wore at Notre Dame. And the Dolphins today are viewed as having had a suitcase full of cash fall out of the sky at their feet but stepping over it in their zeal to get to discounted sugary snack that had also fallen nearby.
Fair? No. Nobody, not even the most famous experts, knows anything about how good any of these infant players really are, and projecting them into the big-boy world, where all the collisions are, is like trying to figure out whether a married couple will stay together based on the first day of bliss.
But that's why Saturday was so telling. The Dolphins, with recent ineptitude, have fractured the trust of their fan base. So Saturday, at the very least, was supposed to feel like the wedding ceremony, but the best man got drunk, revealed during the speech that he slept with the bride and the shocked mother-in-law passed out and knocked over the wedding cake.
All over the league, the annual draft in America's most popular sport is supposed to be a hope party that gets us over our football withdrawal and to the season. Fans paint their faces and have gluttonous gatherings and believe the nonsense that teams spin-doctor in saying that they got exactly the players they wanted. It is a made-for-TV spectacle that traffics in the drug of possibility, and football fans are junkies even though they don't know the names, never mind the games, of many of their newest suppliers.
But you know what the headline was on ESPN.com as everyone else celebrated?
Dolphins Fans Angry.
Saturday is supposed to be like saying a prayer in church, and having all the priests come out and tell you that your wish will indeed come true. Dolphin fans? They're so frustrated because they have been on their knees and the collection plate keeps coming around but where in the name of Marino are the miracles, Father?
Miami is one of only four NFL teams not to make the playoffs any of the past five years. The Detroit Lions, Arizona Cardinals and Buffalo Bills are the only others. They're all punchlines, and they all have one thing in common: None of them have had the kind of quarterback that a lot of people think Quinn might be. He's just about the best chance Miami has had to draft high enough to get The Next Marino - someone who can make sure you are good and competitive for the next 10 years. He's someone Dolphins fans have actually heard of.
So never mind that this whole thing is so imprecise that Marino Himself was taken 27th, after five other QBs. Or that the Dolphins did draft a less-heralded and less famous quarterback in the second round Saturday (BYU's John Beck) who might be The Next. The Noise won't hear that.
Quarterback is the most important position in the sport, in any sport. And Miami has been borrowing used-up and discarded QBs from other teams for the past decade, the franchise standing like a Statue of Liberty for the unwanted and giving home to poor and huddled masses yearning to throw free interceptions. Quinn wasn't supposed to be a possibility for Miami. He was supposed to be taken much earlier. But he slipped Saturday. And then, many Dolphin fans believe, so did the franchise.
New coach Cam Cameron and new general manager Randy Mueller clearly don't think he is as good as others do. And I agree with them, actually. I saw Quinn play a lot at Notre Dame and saw a lot of hype but no "Wow!" factor, even though he had plenty of pro help at the skill positions and a pro coach in Charlie Weis. Quinn certainly didn't jump off the screen with ridiculous gifts the way No. 1 overall pick JaMarcus Russell did.
But Quinn is a pretty boy from America's Football University, and ESPN's experts immediately began blasting Miami for not taking him Saturday.
Again, we don't know how good any of these players will ever be. No clue. And neither do ESPN's experts. Draft lore is filled with broken first-round promises named Akili Smith and Ryan Leaf and Tim Couch and Kyle Boeller. But in the absence of actual wisdom, real and supreme, what you get is ESPN's noise.
I think Ginn is going to be great, mind you. He's the fastest college football player I've seen since florescent blur named Deion Sanders. He is an electrical power line who will find the end zone as a returner and a receiver, a combination of Devin Hester and Santana Moss. He will be the fastest guy on the field most Sundays. And he is something Miami needs badly - a playmaker who will push Chris Chambers back into being what he is, which is a good No. 2 receiver who has been asked to do too much as a No. 1.
But who will throw to him? It is difficult to know how good even Chambers is because he has never had a talented passer picking him up and making him better. He has played for so many quarterbacks, it wouldn't be surprising if what he sees when he looks back through his facemask is Ronald McDonald wearing a Dolphin helmet and preparing to throw him the ball. Miami's quarterback situation is about as hopeless as any in the league. At least the Oakland Raiders and Cleveland Browns, the only teams with less hope at QB, injected their fan bases Saturday with arms they wanted.
Miami, meanwhile, has Daunte Culpepper, he of the busted body. They are trying to trade for 37-year-old Trent Green, who is coming off a concussion, at which time they are expected to trade or release the much younger Culpepper, which would be dumb. It opens up the possibility that two years from now, after Green is even more spent, that Culpepper will be throwing three touchdowns a game elsewhere, having done nothing as a Dolphin other than gotten well and collected millions.
And it is part of why fans of this team turned what was supposed to be a celebration Saturday into a funeral.
Copyright 2018 The Lawrence Journal-World. All rights reserved. This material may not be published, broadcast, rewritten or redistributed. We strive to uphold our values for every story published.