Photo Gallery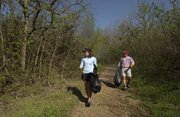 Clinton Lake cleanup
A yearly cleanup at Clinton Lake State Park is losing momentum, the organizer said Saturday.
"Less and less and less" are participating each year, said Kipp Walters, park ranger. "It's a really nice day, so I expected more people to show up."
About 65 of the anticipated 250 to 300 volunteers participated in the 24th annual Clinton Lake Cleanup on Saturday, he said.
Volunteers spent several hours in different areas of the park picking up garbage.
They collected between 800 and 1,000 pounds of trash and recycled 94 pounds of glass, 25 pounds of aluminum cans and 20 pounds of plastic bottles, Walters said. In the cleanup's 24 years, about 9,000 volunteers have participated.
"I feel like it's a way of giving back," said Jay Bialek, Lawrence, as he scoured for trash along the North Shore Trails.
Bialek said he uses the trails frequently for running and biking and takes pride in maintaining the park's cleanliness each year.
Meanwhile, Susan Postlethwaite headed off for boat ramps one and two, trash bag in hand.
"It makes you feel better about yourself and the community," said Postlethwaite, office manager of the Clinton Lake marina, who arrived about an hour late for the cleanup. "I made the mistake of going down to work first, and I didn't get away."
Most of the litter comes from boaters and picnickers losing items in the wind and fishermen not picking up after themselves, Walters said.
"It's all just an eyesore," he said. "But it contributes to pollution, too."
Volunteers also had some unusual finds, including a crushed tricycle frame, a mouse trap, a one-eyed rubber duck and a scooter.
In past years, volunteers have found a typewriter, an airplane control panel and a U.S. Army foot locker from World War II in the park, Walters said.
He said the park employs people to pick up trash, but the annual cleanup gives others an opportunity or reason to get out and enjoy the park while helping the environment at the same time.
Despite a dwindling turnout in recent years, Walters said he continues the cleanup tradition for those who, like Bialek, keep coming back.
"We've got some enthusiastic people," said Walters. "I would like more people to come out and do this."
Copyright 2018 The Lawrence Journal-World. All rights reserved. This material may not be published, broadcast, rewritten or redistributed. We strive to uphold our values for every story published.