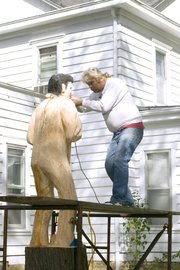 Mclouth — When McLouth artist Russell Ehart looks at a tree stump, he doesn't see firewood. He sees a bird, a bear - or even Elvis Presley.
Ehart and about 25 of his fellow chainsaw carvers are descending this weekend on Pacific, Mo., for the first-ever Carving for a Miracle chainsaw carving competition and benefit auction.
The event is a way for carvers from across the country to raise money for the Children's Miracle Network of Greater St. Louis.
"I think it's important that we are doing something for somebody other than ourselves," Ehart said.
Each carver will have the weekend to work on one main piece depicting a Missouri outdoors scene, and they will do one 90-minute quick carve each day.
"We are going to have some of the best carvers here," said Laura Reichert, a Pacific, Mo., carver who founded the event. "People enjoy coming out and watching, especially the quick carves where they can watch a log turn into a finished piece in 90 minutes."
Ehart and Reichert have been using chainsaws to cut out masterpieces for years.
Ehart said he got his start carving figures by hand after he hurt his back during a construction accident.
"One thing led to another, and I started doing chainsaw carving," he said.
His first statue - a representation of Chief Tonganoxie - currently is on display at Bichelmeyer's Steakhouse in downtown Tonganoxie.
Since her first public carving, Reichert and her husband have traveled the country, participating in carving competitions. It was on the road that she got the idea to bring a competition to her home state. Pacific is on the west edge of St. Louis.
The winner will be determined by a charity auction that will sell each of the artists' carvings. Whoever has the largest total will be this year's champ.
Fifty percent of the money raised from the auction will go to the Children's Miracle Network of Greater St. Louis.
Gill Engler, executive direct Children's Miracle Network of Greater St. Louis, said he was honored the carvers will donate their money.
Copyright 2018 The Lawrence Journal-World. All rights reserved. This material may not be published, broadcast, rewritten or redistributed. We strive to uphold our values for every story published.