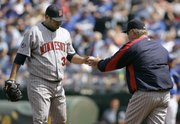 And now, let us join in praise for the LOOGY: the "lefty one-out guy," also known as the left-handed relief specialist. You know him. You love him (as long as he's retiring his one batter per game). You wish you were him.
He is typically goofy and often overweight - his job description requires little in the way of sanity or fitness. He enters during the seventh or eighth inning, faces his one batter (usually the best left-handed hitter on the opponents' roster), and disappears into the clubhouse to sip a beer. For a season of this, he often earns several million dollars. Because of the low mileage on his arm, he often pitches into his 40s.
He is the reason you tie your 2-year-old son's right hand behind his back when your wife isn't around.
"I was a big Nolan Ryan fan as a kid," said LOOGY extraordinaire Jamie Walker of the Baltimore Orioles (current contract: three years, $12 million), explaining how one typically becomes a LOOGY. "Hell, I didn't want to be a reliever until I realized my stuff is not as good ... It does blow my mind, the money we make."
The LOOGY (freelance writer John Sickels is often credited with coining the term), did not fully evolve until recent times, but has been around longer than you might think. The first documented LOOGY season by our (admittedly) arbitrary definition - a season in which a lefty made at least 40 relief appearances while averaging less than one inning per appearance - was by the immortal Bill Henry of the Cincinnati Reds in 1962. That makes Fred Hutchinson the first manager to deploy - or, some might say, "to hock" - a LOOGY.
But it wasn't until the 1980s that the LOOGY began to take hold as a standard bullpen weapon. Two significant things happened in that decade: Tony La Russa (in 1980) managed his first full season and Jesse Orosco (in 1987) lost his closer's job. Over time, La Russa would come to be known as the most prolific (or, some might say, most egregious) deployer of the LOOGY in history, while Orosco, in the second half of his career, would become known as the Godfather of the LOOGY.
"Oh, man Orosco," said Dennys Reyes of the Minnesota Twins, who last season authored one of the greatest LOOGY seasons of all-time (66 appearances, 502â3 innings, 0.89 ERA, .197 opponents' batting average). "He's the one we all look up to."
La Russa began using Kevin Hickey as a LOOGY with the White Sox in 1981, and La Russa's future teams in Oakland and St. Louis almost uniformly carried one LOOGY, if not two. The list reads like a Who's Who of LOOGYs: Rick Honeycutt, Tony Fossas, Lance Painter, Orosco (for six games in 2000), Steve Kline and Ray King.
Last season, La Russa deployed one of his LOOGYs (Tyler Johnson or Randy Flores) to face a single batter a total of 33 times, tops in the National League and third in all of baseball behind Joe Torre's Yankees (Ron Villone and Mike Myers) and Mike Hargrove's Mariners (primarily George Sherrill), who each did it 35 times, according to retrosheet.org.
"Everybody gives La Russa a hard knock (for over-managing)," King said, "but he's a guy (who) put every pitcher in a situation to have success . . . A game could be 14-1, and he's still going to match up."
Interestingly, though King is one of the greatest LOOGYs of all-time, in his first five appearances for the Nationals this season he has faced five, two, three, four and six batters. Nats rookie manager Manny Acta has some learning to do, it seems, in the art of the LOOGY.
Copyright 2018 The Lawrence Journal-World. All rights reserved. This material may not be published, broadcast, rewritten or redistributed. We strive to uphold our values for every story published.