News that three top prospects - DE Gaines Adams, WR Calvin Johnson and DT Amobi Okoye - told teams at the NFL Scouting Combine that they have tried marijuana at least once in their young lives will have no effect on their draft status.
Some personnel guys believe up to 90 percent of draft-eligible players have smoked marijuana; others concede at least 50 percent have done so. Teams accept such experimentation. They become concerned only when there are indications of repeated drug use.
¢It is almost inconceivable RB Ricky Williams will be on the Dolphins' opening day roster. Don't forget that general manager Randy Mueller, now making the Dolphins' personnel decisions, is the guy who traded Williams from the Saints in 2002 when he was general manager in New Orleans. No one in the league is more familiar with Williams or has more reservations about his bizarre behavior. Williams' request to be reinstated after his suspension for drug use could be approved even before the draft, and he'll wind up playing for some team in the fall. Just not the Dolphins.
Another player who wants back into the NFL, former Chargers S Terrence Kiel, should be employed by the league to speak to every team. He pleaded guilty to transporting codeine-based cough medicine over state lines and had to serve 100 hours of community service. It's estimated he lost up to $4.5 million because of his stupidity. You'd hope his message would be "Don't be dumb like me."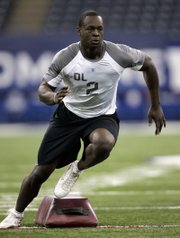 NFL Europa's new season got off to a rousing start with record-breaking attendance on the first weekend of play. The league now includes five teams in Germany and one in the Netherlands. Many NFL clubs question its long-term benefits, and it will be interesting to see whether new Commissioner Roger Goodell remains a supporter or allows the league to die.
¢Vikings Owner Zygi Wilf is hoping Goodell remains a supporter in another area. The NFL's fund to help finance new stadiums has expired, but Wilf wants a new stadium in Minnesota. Plans for the $954 million facility were revealed last week, although the team concedes there is no financing in place. Wilf desperately needs a boost from the league, which will come only if owners vote to reestablish the loan program. But first, Goodell has to push for it.
One of the most intriguing players in the draft is Louisville RB Michael Bush. He figured to be a first-round prospect until he broke his leg last September. He has just now begun the tryout process. His surgeon, the respected James Andrews, has proclaimed Bush "99 percent" healed, but Bush still carries considerable risk. It's likely to be a team with few needs that picks him.
¢About 80 percent of QB Brett Favre's bad decisions last season came with the Packers down by at least two touchdowns in the fourth quarter. Coach Mike McCarthy will continue to work with Favre to be more careful in those situations and not to view them as so desperate. But it will help the Packers, and Favre, even more if McCarthy's desire to develop a Broncos-like running scheme works out.
Copyright 2018 The Lawrence Journal-World. All rights reserved. This material may not be published, broadcast, rewritten or redistributed. We strive to uphold our values for every story published.