Indianapolis — Now that Rick Carlisle is out as the coach of the Indiana Pacers, the team needs to figure out what is next.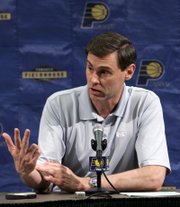 Carlisle was fired Wednesday after a season in which the team failed to make the playoffs for the first time in a decade.
The Pacers finished the season 35-47, their worst since 1988-89. Indiana was 29-24 shortly after the All-Star break, but lost its next 11 games to fall out of the top eight in the Eastern Conference.
Carlisle said he enjoyed his four-year run with the team and understood that it was time for the Pacers to hear a "new voice." With the first major postseason move out of the way, team president Larry Bird said anything is possible - and the new coach might have to adjust.
"We don't know the direction," he said. "We have an idea, but if there's something out there that can be a major trade, we'll probably do it if it benefits us. He's got to understand going in that we will trade any one of these players, and it might not be what he likes, but he's got to know that going in."
"Any of these players" includes forward Jermaine O'Neal and point guard Jamaal Tinsley, the team's top commodities. O'Neal says he's not interested in being part of a rebuilding project and Tinsley could follow Ron Artest and Stephen Jackson as Indiana players traded following off-the-court offenses.
O'Neal averaged 19.4 points, 9.6 rebounds and 2.6 blocks in one of the best seasons of his 11-year career. He's a six-time All-Star who finished third in fan voting this year for the Pacers' 40th anniversary team.
But O'Neal missed 13 games with various injuries and illnesses. He had surgery Wednesday to repair a meniscus tear in his left knee that hobbled him the last two months of the season. He has missed 82 games the past three seasons - an amount that equals an entire regular-season's worth of games.
Tinsley had one of his best seasons and was more durable than usual. He averaged 12.8 points and 6.9 assists in 72 games, the most games he's played since 2002-03.
But Tinsley's off-the-court problems include a felony charge he faces from a February bar fight in Indianapolis. He also was present in October at a fight outside a strip club that has Jackson facing charges for firing a gun.
Bird's pledge to continue to crack down on such behavior puts Tinsley's status as a Pacer in jeopardy.
"It's an embarrassment," Bird said. "What we've done is we've gotten rid of the players. We traded them guys, and we will continue to trade them in the future if we have trouble with them."
Carlisle's tenure was less about wins and losses and more about his struggle to manage talented but volatile players. He always will be linked with Artest and Jackson, the two most prominent players in the 2004 brawl between Pacers players and Detroit Pistons fans. That brawl started the unraveling of a team that had the potential to make several title runs.
Copyright 2018 The Associated Press. All rights reserved. This material may not be published, broadcast, rewritten or redistributed. We strive to uphold our values for every story published.