One of the best aspects of being a gardener is that our appetites for new and unusual plants are never satiated. Partly it is our own fault as we are always striving for that garden in our mind's eye, but we can also blame the botanists and horticulture gurus out there who are continually splicing, mixing and producing the next great garden plant.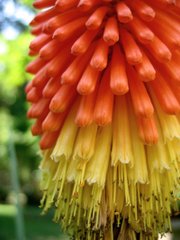 The Knock Out Rose hit the scene about a decade ago and has flourished; the Kong series of coleus was a new addition to my own garden last year, and the wave petunia made a splash a few years back. Now this growing season we can expect the unexpected and relish in this fabulous hobby that often teeters on obsession.
Perennials
¢ Coreopsis: There are two new coreopsis from Terra Nova, www.terranovanurseries.com, which shows a wide range of possibilities. First is Pinwheel, which sports a buttery-yellow bloom with bluish-green foliage, and second is Snowberry, illuminated in the garden with its white petals and raspberry centers.
¢ Echinacea: Green Eyes dons green centers on an immature cone. Merlot has large flowers on nearly-black stems that juxtapose with a wonderful harmony. Raspberry Tart has a plethora of smaller, shuttlecock-shaped flowers.
¢ Euphorbia: Pat Lechtenberg, a Douglas County Master Gardener, was quite pleased with Diamond Frost Euphorbia, saying it withstood the heat and drought well here in Lawrence.
¢ Hemerocallis: This 2007 All-American Daylilies winner Lavender Vista has green centers and lavender flowers that are large at 5 to 6 inches across and cushioned above hearty, thick foliage.
¢ Heuchera: Coralbells are one of the most diverse plants around and from Terra Nova, www.terranovanurseries.com, comes Rave On, a profuse bloomer with masses of dark pink flowers teetering above pewter-colored leaves.
¢ Hibiscus acetosella Haight Ashbury: This introduction from Proven Winners, www.provenwinners.com, has maple-leaf-shaped foliage with dark stems and reddish purple flowers, and if that isn't colorful enough, there are splashes of cream, pink and burgundy on the leaves. Hardy to Zone 8.
¢ Kniphofia northiae: Known as the giant poker with its succulent-like foliage that mounds into a 6-foot-wide clump of gray-green leaves that are 6 inches wide. The flowers are fuchsia-red spikes that are quite large. This South African plant came from Plant Delights Nursery, www.plantdelights.com.
¢ Penstemon Phoenix Red: Magnificent upright spikes of large, tubular flowers with white throats from Fischer USA, www.fischerusa.com.
¢ Saruma henryi: Generally a collector's plant for a shade garden. This cultivar is a relative to wild ginger that creates mounds of delicate heart-shaped leaves with petite yellow flowers atop.
¢ Scabiosa caucasica Ultra Violet: These plants generally have a lasting bloom time with their pincushion heads blowing in the warm Kansas sun. Scabiosa are normally blue or light pink, but Ultra Violet brings a more intense color to this normally muted palette.
Annuals
¢ Acalypha Bourbon Street: A plant with waxy tropical-like foliage with green and orange variegations is part of the Athens Select program, www.athensselect.com.
¢ Pink Doublet Begonia: Pat Lechtenberg, a Douglas County Master Gardener, was impressed with this new begonia last season; it had a lasting blooming period and produces profusely.
¢ Cleome: From Proven Winners, www.provenwinners.com, this new series of cleome are smaller and more compact. Check out the Senorita Rosalita and the Spirit varieties.
¢ Impatiens VIVA! SunPatiens: The folks from Sakata Seed, www.sakata.com, have figured out how to make these annual favorites thrive in the sun, heat and humidity.
¢ Iresine Blazin' Rose: From the growers at Ball Seed, www.ballseed.com, this foliage annual sports fuchsia-pink and green leaves on hot pink stems, fabulous in the garden or in a container.
Grassy Plants
¢ Corynephorus canescens Spiky Blue: This is a great blue-green grass for the garden, the plant grows in a 10-inch mound with delicate, needle-like leaves. Hardy up to Zone 7.
¢ Isolepis cernua: Otherwise known as fiber optic grass, I tried this in my containers and was very pleased and elated with its growing habits. Try Vinland Valley Nursery if you are seeking this grass out.
Shrubs
¢ Corylus avellana Red Majestic: This is a new version of Harry Lauder's walking stick, still with its twisted stems of contorted filbert and with burgundy foliage and catkins of purple hazel, plus it is low-maintenance.
¢ Hydrangea macrophylla: From Hines Horticulture, www.hineshort.com, comes this gorgeous shrub of purple blooms with white edging and it is small enough to live happily in a container.
¢ Kolkwitzia amabilis Dream Catcher: This is a form of beautybush that lasts much longer than the normal variety, with its golden foliage tipped with bronze in the fall and pink flowers in the spring. This isn't your mom's beautybush.
¢ Lagerstroemia Cherry Dazzle: From McCorkle Nurseries, www.mccorklenurseries.com, this plant sports burgundy buds that open into clusters of small cherry-red flowers from summer to fall.
¢ Rhododendron President Roosevelt: This is actually a very old shrub that is making a big comeback, with its variegated foliage that dons a bright gold streak along the mid-rib, the blooms are red with white centers.
¢ Rosa Strike It Rich, Rainbow Knock Out, Moondance: The All American Rose Selections bring three winners from 2007. Weeks Roses, www.weeksroses.com, brings us the grandiflora Strike It Rich with its gold petals with tints of pink and a spicy scent. Rainbow Knock Out from Conard-Pyle, www.conard-pyle.com, has coral pink flowers and all the longevity and resistance as its predecessor, the Knock Out. Moondance, from Jackson & Perkins, www.jacksonandperkins.com, is a floribunda with cluster of white blooms.
Trees
¢ Cornus angustata Empress of China: This evergreen dogwood enveloped in thick clusters of creamy, white flowers in early summer juxtaposed against dark green foliage, following the flowers are red fruits. This dogwood is smaller than most around 10-12 feet.
¢ Cotinus coggygria Young Lady: A new smoke tree from Spring Meadow Nursery, www.springmeadownursery.com, this tree produces a cloud of blooms from summer to fall of puffy pink poufs, and the fall colors are equally as stunning.
Copyright 2018 The Lawrence Journal-World. All rights reserved. This material may not be published, broadcast, rewritten or redistributed. We strive to uphold our values for every story published.