Blacksburg, Va. — The bloodbath lasted nine minutes - enough time for Seung-Hui Cho to fire 170 rounds from his two pistols, or about one shot every three seconds.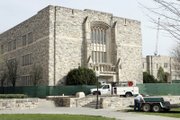 During that time, Virginia Tech and Blacksburg police spent three minutes dashing across campus to the scene. Then they began the process of assembling a team, clearing the area and trying to break through the doors, which took another five minutes.
Seconds later, after they blasted through the chained doors with shotguns, Cho put a bullet through his head and died in a classroom alongside 30 of his victims. Two others were shot earlier in a dorm.
A timeline of the rampage emerged Wednesday as police provided new details about what they uncovered in the 10 days since Cho committed the worst mass shooting in modern U.S. history.
The five minutes police spent breaking into the building proved to be crucial. During that time, Cho picked off his victims with a hail of gunfire.
State police spokeswoman Corinne Geller praised the officers' response time, noting that had police simply rushed into the building without a plan, many would have likely died right along with the staff and students.
"If you go in with your backs turned, you're never going back," Geller said. "There's gotta be some sort of organization."
Some police and security experts question the five-minute delay, saying authorities should have charged straight into the melee.
"You don't have time to wait," said Aaron Cohen, president of IMS Security of Los Angeles, who has trained SWAT teams around the country since 2003. "You don't have time to pre-plan a response. Even if you have a few guys, you go."
Tom Corrigan, former member of the NYPD-FBI terrorism task force and a retired New York City detective, said five minutes seems like a long time when gunfire is being heard, but he added it's tough to second-guess officers in such a chaotic situation.
"I would have liked to have seen them bust down the door, smash windows, go around to another door, do everything to get inside fast," he said. "But it's a tough call because these officers put their lives on the line on a daily basis and I am sure they did the best they could."
Al Baker, a former 25-year New York police veteran who has done extensive law enforcement training, echoed that sentiment, but said sometimes officers have to do whatever is necessary to enter a building - whether it's throwing a rock through a window or driving a car through the door. He said the crucial issue is ensuring that officers have the proper training and equipment.
"This is a seminal moment for law enforcement as far as I'm concerned because it proves that minutes are critical," he said.
State Police Superintendent Col. W. Steven Flaherty, who is overseeing the investigative team looking at the shootings, said police have been unable to answer the case's most vexing questions: Why the spree began at the West Ambler Johnston dormitory, and why 18-year-old freshman Emily Hilscher was the first victim.
"We talk about possible motives and theories and whatnot, but we don't have any evidence to suggest anything," Flaherty said.
Witnesses place Cho outside West Ambler Johnston shortly before 7:15 a.m., when he fired the two shots that killed Hilscher and 22-year-old senior Ryan Clark, a resident assistant at the dorm, Flaherty said.
It is not known how Cho got in.
Police searched Hilscher's e-mails and phone records looking for a link. While Flaherty would not discuss exactly what police found, he said neither Cho's nor Hilscher's records have revealed a connection.
"We certainly don't have any one motive that we are pursuing at this particular time, or that we have been able to pull together and formulate," Flaherty said. "It's frustrating because it's so personal, because we see the families and see the communities suffering, and we see they want answers."
Copyright 2018 The Associated Press. All rights reserved. This material may not be published, broadcast, rewritten or redistributed. We strive to uphold our values for every story published.