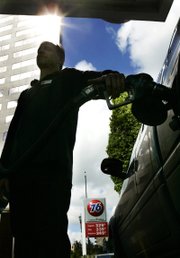 Washington — The last time gasoline prices approached $3 a gallon nationwide, hurricanes had ripped apart the Gulf Coast oil infrastructure and world oil supplies were stressed. Today, oil supplies aren't pinched, but rusty U.S. refineries aren't producing enough gasoline to meet demand, which is driving up pump prices ahead of summer's peak driving season, and some fear $4 a gallon gas looms soon.
To be sure, experts disagree. Some think today's high gasoline prices - a nationwide average of about $2.85 a gallon - are near their peak. Others warn that we haven't seen anything yet.
"I am in the camp that we will go higher, perhaps a lot higher. I think we are one disruption or problem away from $4-a-gallon gasoline," said Phil Flynn, a veteran oil analyst for Alaron Trading, a Chicago-based commodities trading company.
One potential disruption is a threatened union strike May 9 at four Belgian refineries. Collectively, they process almost 1 million barrels of oil daily. Increasingly, the United States depends on imported gasoline to make up the difference between the 8.7 million barrels per day (bpd) produced in the United States and the 9.4 million bpd that we consume.
U.S. gasoline inventories are at a 20-year low. The latest statistics released Wednesday from the U.S. Energy Information Administration show gasoline inventories this week at 194 million barrels - or just under 21 days' worth of national use.
Copyright 2018 The Lawrence Journal-World. All rights reserved. This material may not be published, broadcast, rewritten or redistributed. We strive to uphold our values for every story published.