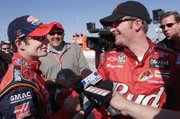 Some race fans sometimes have a little trouble drawing the line between what happens on the track and what happens off it, but Jeff Gordon says that never was a problem between himself and the late Dale Earnhardt.
"I will say that (Earnhardt) Senior and I, we did have a rivalry on the racetrack," Gordon said after tying the seven-time champion's career record with a 76th victory Saturday night at Phoenix International Raceway.
"We loved to beat one another. We battled hard on the track and he certainly didn't mind shoving me around. (But) I just think that he was very good at not carrying that off the track because of the way he treated me off it.
"I kind of understood that, where the boundaries were and felt pretty fortunate. And I think most guys do that. Most guys keep what's on the racetrack on the racetrack and don't get wound up with it off the racetrack."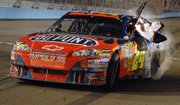 Gordon tried to pay tribute to Earnhardt after the win at Phoenix, carrying a flag with a "3" on it around the track for a victory lap. That gesture, one Gordon said members of his team had talked about in advance with Dale Earnhardt Jr. and one that Earnhardt Jr. praised afterward, still met with a strong negative reaction among some Earnhardt fans.
Truth be told, of course, there's nothing Gordon could possibly do to make some Earnhardt fans warm to him. And it certainly would be more salt in that wound if Gordon, himself a four-time champion, should win Sunday's Aaron's 499 at Talladega Superspeedway.
Not only would Gordon move past Earnhardt on the all-time victory list, he'd do it at a track where Earnhardt was, perhaps as much as any place else, beloved. Earnhardt won 10 Cup races at Talladega, including one with a thrilling late-race charge in the fall of the 2000 season that wound up being his last career victory.
There's also this: Sunday is April 29, which would have been Earnhardt's 56th birthday.
"I have great memories of racing with Dale there," Gordon says. "I feel like any win I have at Talladega, I attribute a lot to Dale, because I learned so much from racing with him. He was just a master at this place. You'd watch him and see some of the things that he'd do, and you'd shake your head going, 'It's not possible. He must be cheating.' But years later I started to understand how he was able to do some of those things. That plays a big role in any win I've had here."
If Gordon should win Sunday, he'd also move into a tie for the most wins among active drivers at Talladega. Guess who he'd be tied with? That's right, Earnhardt Jr.
Gordon knows that a rivalry with Earnhardt Jr. would ignite fans' passions.
"It would spice things up a little bit more if Junior and I didn't like one another and crashed one another a couple times," Gordon says. "But I think it spices things up no matter what when we're battling with him. ... I saw it at Texas when Junior and I were battling, I could see the reaction from the fans. They were loving it. They love it whenever he takes a lead no matter who it's from."
Gordon says his relationship with Earnhardt Jr., however, is very different from the one he had with Earnhardt.
"I can remember Earnhardt Jr. racing a late model at North Wilkesboro (N.C.) and talking to him about coming up through the ranks and stuff," Gordon said. "We've hung out as friends before away from the track, and we know the reaction that the fans have.
"But unless we're at a racetrack where both of us are running well, we have a lot of respect on the track. The same way I did for his dad."
Copyright 2018 The Lawrence Journal-World. All rights reserved. This material may not be published, broadcast, rewritten or redistributed. We strive to uphold our values for every story published.