Kansas City, Mo. — Joakim Soria allowed a pair of ninth-inning runs on a throwing error and a wild pitch, and the Chicago White Sox outlasted the Kansas City Royals 9-7 Tuesday night.
In a game that started 1 hour, 45 minutes late because of rain and ended past midnight, Boone Logan (1-0) got his first major league victory.
With two outs in the ninth, Soria (1-1) walked Paul Konerko and gave up a single to A.J. Pierzynski. He got a glove on Pablo Ozuna's infield single but made a bad throw at first for an error that allowed Konerko to score with the go-ahead run.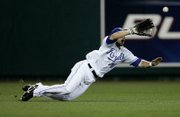 Pierzynski, who was 3-for-5 with two doubles, took third on the error and scored on the wild pitch.
Logan got two big outs, and Bobby Jenks pitched the ninth for his eighth save in nine chances.
Chicago overcame a 4-1 first-inning deficit to take a 6-4 lead in the sixth, then fell behind 7-6 in the seventh before coming right back to tie it in the eighth.
Emil Brown's two-out double off Mike MacDougal capped Kansas City's three-run seventh, but Joe Crede homered off Brandon Duckworth leading off the eighth. The Royals left two runners in scoring position in the eighth when Logan threw a called third strike past Mark Teahen.
White Sox starter Javier Vazquez gave up five runs and seven hits in six-plus innings.
Kansas City's Brian Bannister, brought up from Triple-A Omaha before the game, made his first AL start and gave up four runs - three earned - and five hits in 4 1-3 innings. Bannister, traded by the New York Mets in December for reliever Ambiorix Burgos, gave up four doubles.
Bannister's father, Floyd Bannister, was 16-14 for the Royals in 1988-89. The two are the third father-son combination in club history, behind Hal and Brian McRae and John and Dusty Wathan.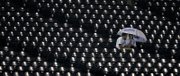 Konerko hit a sacrifice fly in the first, but Ross Gload hit a two-run triple in the bottom half between RBI singles by Teahen and Alex Gordon.
Juan Uribe had a two-run, two-out double in the fourth, and Konerko chased Bannister with a tying single in the fifth. Darin Erstad put the White Sox ahead with a two-run, two-out double against Joel Peralta in the sixth, only to have Mark Grudzielanek hit an RBI double in the seventh off Matt Thornton and score on Teahen's single.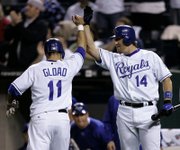 Notes: Brown was a seventh-inning defensive replacement for Gload in left field. ... Chicago manager Ozzie Guillen held out DH Jim Thome, who had a sore muscle in his right ribcage. Thome strained the muscle Monday. ... Thornton blew his third save in as many opportunities.
Copyright 2018 The Associated Press. All rights reserved. This material may not be published, broadcast, rewritten or redistributed. We strive to uphold our values for every story published.