Photo Gallery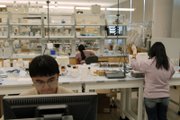 KU funding
Across Kansas University's Lawrence campus, there are 35 vacant jobs that can't be filled this school year.
Plans to install a chiller at a research building on West Campus are on hold. At KU's Biodiversity Institute, the staff can't spend about $130,000 it thought it would be able to this year.
The reason for those measures is an unforeseen slowing this year in the amount of money KU recoups from overhead costs on research grants - a flexible pot of money known as "facilities and administration" dollars. At the beginning of the academic year, leaders of KU's research office had planned on recouping about $22.2 million in overhead costs from grants this year.
Now, it looks as if this year's number may be around $19.9 million.
Jim Roberts, KU's vice provost for research, attributes the gap in part to the dwindling of research dollars at the federal level. He said KU has done well in recent years at increasing its share of research dollars, even as the total amount of money earmarked by the federal government for research has remained flat.
"KU has done very well in the face of that, but it looks like we might get caught a little bit this year on it," Roberts said last week in his office in KU's Youngberg Hall on West Campus. "This whole forecasting method that we use is based on past history, and this year is just different."
44 percent for overhead
When a researcher at KU gets a federal grant, the school takes a portion off the top - typically 44 percent - and combines the money into one pot. That money is administered by the KU Center for Research Inc., a nonprofit foundation of which Roberts is president.
Some of the money goes for one-time "start-up funds" for new researchers. Some goes to the chancellor's and provost's offices. Much of it goes to deans, unit directors and the operations of eight designated "research centers" across campus.
A large portion of the money goes for buildings. The biggest example of that is the new $40 million Multidisciplinary Research Building on West Campus. Bond payments for the building will cost $1.9 million this year - about 9.5 percent of the total budget of the Center for Research - and $3.8 million each year from 2008 until 2025.
The idea was that the building would be paid for with overhead from research dollars, instead of state tax dollars. Although research dollars are harder to come by, the bonds still must be paid.
"It's kind of like the home mortgage. It becomes the first thing you have to pay because it's a major commitment over a long period of time," said Kevin Boatright, a spokesman for Roberts' office.
Boatright said the office's staff realized about a month ago that its revenue from overhead costs would be coming in below expectations. That led to cost-saving measures, such as holding off on a $65,000 plan to install a new chiller for the air-conditioning system at the Higuchi Building.
The office has identified 35 vacant job positions that will not be filled until after July 1. A detailed accounting of those jobs was not available, but Boatright said they were primarily administrative positions.
Federal problem
Roberts described the stagnant funding for research at the federal level as "a problem for the country" that needs to be addressed by Congress. After doubling its expenditures from 1998 to 2003, the National Institutes of Health - KU's single-largest funding agency - has leveled off near $28 billion a year in recent years.
"Institutions built their infrastructure expecting perhaps a time where the resources would not be flat as they are now," said Norka Ruiz Bravo, deputy NIH director.
Boatright said the new research building may limit KU's flexibility in the short term but will better help the school compete for grants in the future.
"We would argue that the short-term disadvantages are going to be offset by long-term advantages," he said.
Still, if the picture doesn't improve in coming years, Boatright said, the research office may have to pursue new routes of funding, including making the case to private donors to help pay for research buildings or partnering with the Kansas Bioscience Authority.
Biodiversity crunch
At the Biodiversity Institute, one of eight designated research centers on campus that receive funding through Roberts' office, the impact this year has been "significant and unfortunate," assistant director Jordan Yochim said.
In a typical year, the institute receives anywhere from $70,000 to $80,000 from the KU Center for Research's budget from overhead costs.
"We reinvest that in our research infrastructure, in graduate student support, in the things that make us better at doing the research we do in our field," Yochim said.
In the past, if it hasn't spent all that money, it's been able to keep it for the next year. Going into this year, he said, the institute had about $130,000 from overhead costs that officials thought they would be able to spend.
Now, they can't.
"Without it, we sort of are stuck in the present, and that's been the big impact on us," he said. "We've had to sort of scale back, put things on hold. We've had to hold off filling a few positions we would like to fill.
"They aren't calling it a cut yet. They just froze the funds. We can't spend it any more this year because they need it."
The budget Roberts oversees is only for KU's Lawrence campus. A description of what the situation is at KU Medical Center wasn't available Monday.
Overall, research grants at KU amount to about $218 million each year, including the medical center, which represents about one-fifth of KU's $1 billion budget.
Copyright 2018 The Lawrence Journal-World. All rights reserved. This material may not be published, broadcast, rewritten or redistributed. We strive to uphold our values for every story published.